Barbara's New Rampvan: Taking Delivery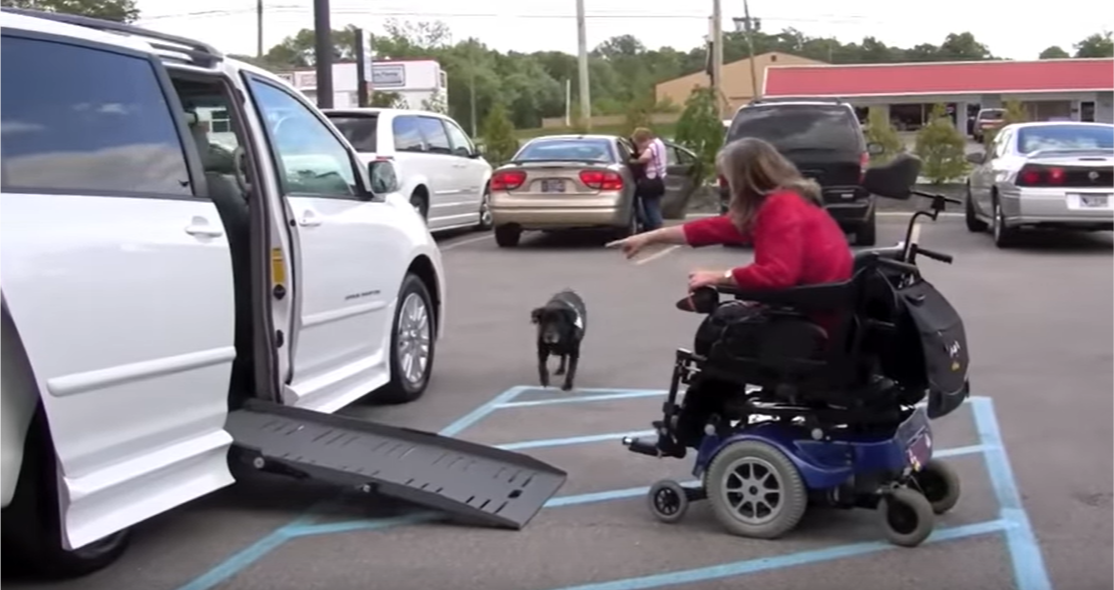 All good things must come to an end, right? Well, so it goes with our "This is Your Rampvan" series on the BraunAbility Facebook page. On Friday we went down to Superior Van & Mobility in Indianapolis to see Barbara take possession of her new wheelchair accessible vehicle, fully converted for wheelchair access.
Before Barbara arrived, we snuck in the van and added a couple of personal touches -- a rawhide bone and a backseat cover in a cute dog print for Bailee, Barbara's eight-year-old Lab/Retriever mix, as well as a thank-you card signed by the entire production team and a $300 gas card for Barbara.
Finally, Barbara, her parents, and, of course, Bailee, arrived. Everyone in the showroom was excited to see Barbara get behind the wheel of her new wheelchair van, but no one was as excited as Barbara herself. Since November 2008, she's been relying on her parents (who live nearly an hour away) and friends to drive her to work and anywhere else she needs to go. Taking possession of this van truly puts her back on the road to independence.
As Barbara headed up the ramp for the first time, the smile on her face was something I wish every BraunAbility employee could have seen in person. Bailee looked right at home too. She trotted straight up the van's ramp and made herself comfortable on the back seat.
As you saw through the photos and YouTube videos, this series meant a lot not only to Barbara but to the entire BraunAbility team. Seeing Barbara and Bailee's photograph and story on the poster that accompanied the van down the line reminded every employee that each van is more than just a VIN (Vehicle Identification Number) -- each wheelchair van represents a person, a story, and someone's independence.
With that in mind, a few other members of the BraunAbility team came along to meet Barbara -- President Nick Gutwein, Vice President Greg Cook, Area Sales Manager Tim Hargis, and last but certainly not least our founder and CEO Ralph Braun. Sam Cook, the owner of Superior, also made the trip up from Louisville to join the celebration. Barbara and her parents had the chance to talk with and thank everyone, and Barbara and Ralph spent a good deal of time comparing something each of them finds critical to their mobility -- their cell phones!
Helping it all come together, "Superior Sales Consultant" Matt Ritter is an excellent example of the importance and strength of our dealer network. As Barbara's mobility needs were changing, Matt was there each step of the way to explain what options would best fit her lifestyle. He even directed her to Indiana's Vocational Rehab Services, an organization that actually had a program that would cover the cost of Barbara's conversion. Do you think Barbara could've got that kind of service if she'd bought a van online from a seller who was thousands of miles away?
Once the final questions had been answered and the last instructions are given, Matt handed Barbara the keys, and she made her way behind the wheel (and Bailee hopped right onto her new backseat). Finally, Barbara was in charge of her own independence again. We all gave one last wave as they pulled onto the highway.
All good things must come to an end, but in this case, a good thing got even better.