Paralyzed Coach Receives Wheelchair Van at Halftime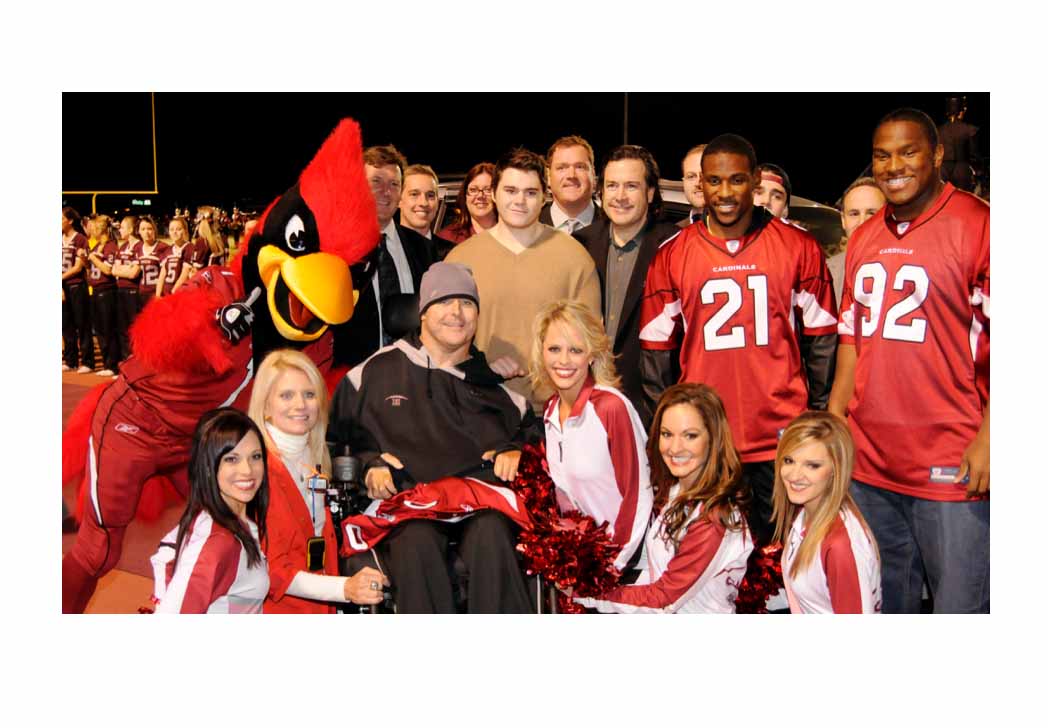 Everyone loves a comeback story...on the football field or in life. Marc Strohmaier's story is both. It begins with Marc as a starting linebacker for his hometown high school and ends with him on a different football field hundreds of miles away, surrounded by a new family and community, a couple of NFL players, and a new BraunAbility Toyota wheelchair van.
The story starts in October of 1988. Marc and a friend were passengers in a truck that was struck when another car ran a stop sign. The crash killed his friend and left Marc, then 16 years old, paralyzed from the chest down.
His football career as a linebacker was over. Instead of working out in the weight room, he spent several months training in a rehabilitation center trying to relearn the basics, like how to independently feed himself and operate his power wheelchair.
The accident was a life-altering setback, but he didn't let it hold him back. In 1990 Marc graduated with his high school class, and then made a courageous move from California to Arizona State University, where he graduated in 1997.
"Everyone experiences ups and downs, but I do my best to not let life's obstacles get in the way of having a positive attitude," he told the Arizona Cardinals in a recent letter.
That attitude led him to a career in teaching and helped him earn a spot on the coaching staff of Hamilton High School in Chandler, Arizona, home to one of the most successful football programs in the state (the team has won four state titles in Marc's years with them).
Students love him, coaches depend on him, and players respect and admire him. And when it became obvious his 11-year-old accessible vehicle was on its last leg, one of the team's former players, Devin McCafferty, was determined to find a solution. Devin's father, Brian McCafferty, is the owner of Avondale Toyota, the community's local Toyota dealership. Knowing what an impact Marc had on his son's life, Brian pledged to pay him back.
And that's how Marc found himself on the field at halftime of last night's playoff game with a new BraunAbility Rampvan XT, which was donated to the 39-year-old coach on behalf of BraunAbility, Avondale Toyota, and Toyota Mobility.
The wheelchair van donation was truly a community effort. Ability Center in Phoenix donated service toward the vehicle, and the Arizona Cardinals NFL Team presented Marc with $5,000 toward insurance for his new ride. The Cardinals even brought along players Patrick Peterson, Dan Williams, and Calais Campbell, as well as a few cheerleaders and Big Red, the Cardinals mascot.
The fans in the packed stadium erupted in applause and shouts of support as the coach was handed the keys to his new van. Marc probably never would have guessed that he'd make such a significant impact on so many lives just by coaching from the sidelines, but he's an inspiration to his team, his classes, and his community...and to the rest of us who are just happy to have heard his story. And congratulations to the Hamilton team, who won the game 28-0...the perfect ending to a night in honor of Coach Marc.