Over 300K Miles and Counting - BraunAbility Customer Puts Reliability to the Test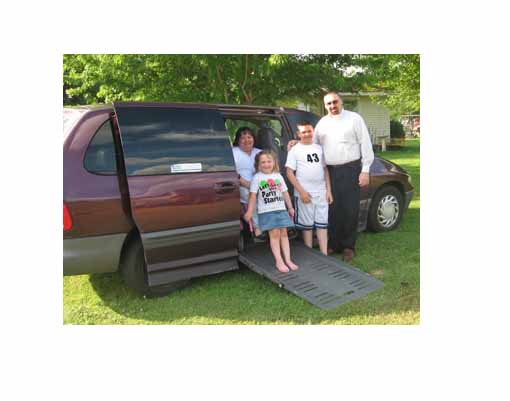 Wheelchair van reliability and dependability are our engineers' top two priorities when designing wheelchair vans. Without these two qualities, we could not stand behind the BraunAbility brand name.
That's easy to say, but it helps to have some proof. That's why when Jim Newby of Newby-Vance Mobility told us that one of his customers was driving a nine-year-old BraunAbility wheelchair van with over 303,000 miles, it was definitely blog-worthy.
Shannon Lytle is a 36-year-old mother of two from Prague, Oklahoma. She makes a daily commute - 60 miles one way - to her job as an accountant in Oklahoma City. There have been minor repairs to the van, a 2000 Dodge BraunAbility van, but the only major work that's been done was a transmission replacement at 230,000 miles.
Even though the vehicle is a model of wheelchair van reliability, it will soon reach retirement age. "I told my husband that when we hit 300,000 miles, it was time to start looking for a new one," said Shannon, who has Spinal Muscular Atrophy, a form of Muscular Dystrophy, and drives from her wheelchair.
The family-owned a full-size van with a BraunAbility wheelchair lift before this vehicle, and while it met their needs, she's hooked on the easy-to-operate and spacious BraunAbility Dodge minivan. "I love that the van is so easy to move around in and that there's room for the whole family," Shannon said. "We'll definitely be looking for another for next time."
With two on-the-go children (10-year-old Steven and 5-year-old Mary) and two careers to balance, reliable transportation is a must for the Lytle family. Shannon spends a lot of time on the road, but Jay, who works at a nearby hospital, is there to help chauffeur the kids and help keep everyone on schedule. Their weeknights are a whirl of extracurricular meetings, homework and church activities. Steven plays guitar and is a Cub Scout (Shannon is the Cubmaster and Jay is a Den Leader), and Mary has weekly ballet practices. Sundays are committed to their church, where Shannon plays piano each week. Each Friday is designated as Family Fun Night when they can take a couple of hours to rent a movie and relax at home together - with a schedule like that, they definitely need it!
Is there anyone out there that can top 303,000 miles on their BraunAbility wheelchair van? If so, we'd love to hear from you!
Thank you to Shannon and her family for sharing their story with us. To show our appreciation for their time - and their loyalty - we'll send her a $303 gas card - $1 for every 1,000 miles. Hopefully, that will help with the fuel expenses for such a long commute! Is there anyone out there that can top 303,000 miles on their BraunAbility wheelchair van? If so, we'd love to hear from you! Just leave a comment below!