Why a BraunAbility Wheelchair Van Dealer?
When Product Experts Become Customer Advocates
Our dealers understand there isn't a one-size-fits-all solution when it comes to your mobility. They'll work with you to find the perfect accessible vehicle fit for you and your family. BraunAbility provides individualized service, which is not always found in the mobility industry. Many online sellers care only about cashing in on a sale, leaving inexperienced customers with a vehicle that doesn't fit their needs, doesn't meet safety regulations, and isn't backed by national service support.
Protect your investment and make sure your road to mobility starts at a BraunAbility dealer. Now is a great time to invest in your personal accessible vehicle solution. 
BraunAbility Dealers: Skilled Professionals. Unmatched Service.
A wheelchair accessible vehicle is a serious investment, and we have always advocated that you have the chance to shop for your options in person to ensure it works well with your mobility aids and other needs. However, even outside of the current pandemic, we know that not everyone can visit a dealership in person. BraunAbility has over 200 dealer locations across the country who can bring your dream vehicle to your driveway so you can experience it in person. Dealers have been trained to thoroughly clean the vehicles and often can make additional accomodations for you upon request.
When your vehicle is ready for maintenance or service, your BraunAbility dealership is staffed with trained technicians who will keep your vehicle running for years to come. Whether it's regular maintenance appointments or 24/7 emergency service, your BraunAbility dealer has you covered.
Feel prepared when you visit the mobility dealership:
Questions You Can Expect
Some of the following questions will likely be asked during your mobility consultation. Most likely, all will come up during your visit. 
What is the nature of your physical challenge?
What is the width of your wheelchair?
How tall do you sit in it?
Would you prefer a rear-entry or side-entry vehicle?
Will you need additional equipment like driving controls or a transfer seat?
Do you plan to ride from your wheelchair or transfer?
Do you need to secure financing?
What is your budget?
Are you interested in new or used vehicles?
Don't Be Afraid to Ask Tough Questions
Your mobility consultant is ready, willing, and able to give you the answers you need. So don't be shy. You can use the following list of questions as a jumpstart:
Has the vehicle been used as a demo?
Will other fees be added to my purchase?
Can I take a test drive?
What is the warranty coverage?
How much is the vehicle after fees and licensing?
Is insurance different for a wheelchair accessible vehicle?
Where can I receive driver training?
Will you contact me in case of a recall?
What is the safety rating?
Could I see how tie downs work?
If you're going to a mobility dealership for the first time, you probably have lots of questions about what to expect, what to ask, and what to bring with you. We've put together a dealership visit checklist so you can get the most out of your visit. If you are requesting an at-home vehicle demo, many of these items will still apply. To get your copy, click on the button and fill out the form.
Don't forget, your BraunAbility dealer also offers wheelchair accessible vehicle rentals. While we are living under a stay-at-home order, some things like therapy appointments or doctor's visits can't wait. We have a fleet of rental vehicles available at each BraunAbility location that can be rented for a day, a weekend, or longer, depending on your need. 
Find Your Closest BraunAbility Dealer
When you're ready to talk with a mobility consultant and check out BraunAbility vehicles in person, there's a mobility dealership near you. Our dealers are specially trained to help you find the very best mobility vehicle for your needs.
BraunAbility + Dealer Network = Strong Today, Unstoppable Tomorrow
Customer Testimonials
Customers everywhere trust BraunAbility products for their transportation needs. See the BraunAbility difference for yourself. Have an experience you'd like to share? We'd love to hear it! Email us at productspecialist@braunability.com to tell us about your personal story.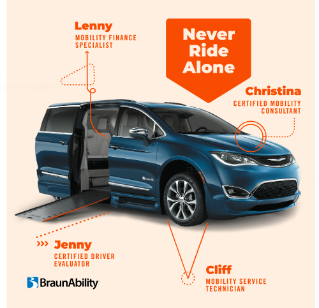 My airbag light was on in my 2015 Dodge Grand Caravan. I called Braun and they helped me set up an appointment with my dealership. The airbag light was fixed in a couple of hours. Great service throughout the process.
- Jose
This is our 3rd BraunAbility conversion, and we will NEVER use another company! The quality of the conversion is excellent, and any necessary service has always been handled quickly and effectively. 2010 Toyota, 2014 Honda and now 2020 Toyota—the new van is so solid and drives beautifully! Thank you BraunAbility for continuing on with founder Ralph Braun's legacy!!
- Christina
After years of thinking about buying a mobility van, I decided it was time to finally pull the trigger. I searched online and read about the many types and makes available, and considered the prices. At first I decided to buy online to avoid risk due to Covid. Any van I inquired about got me the same standard reply, "That van will be perfect for you". EXCEPT at my BraunAbility dealer. Nik with A&J Mobility answered my online inquiry regarding my trade in but also asked additional questions. He eased my mind regarding Covid by telling me about the strict safety protocol at his dealership. He also volunteered to assess my needs in my driveway. Thank God he did, as I would not have been able to fit safely or comfortably in most mobility vans I was considering online. Every concern I had about such a major purchase was addressed with the utmost professionalism, and eventually I was less concerned about the price and more concerned about finding right vehicle for me and my wife. Obviously, we bought a BraunAbility. This is the first accessible vehicle I have ever bought, and it is also the first time in my life I have not experienced any buyer's remorse. When I was a young man, I sold cars for a living. I can spot a sales tactic a mile away. My BraunAbility dealer was not selling me; he was assessing my need and helping me. That is something that cannot be faked. I look forward to starting the next chapter of my life with the ability to go places without being a burden for my wife.
- Craig