Commercial ADA Vans, Wheelchair Lifts and Ramps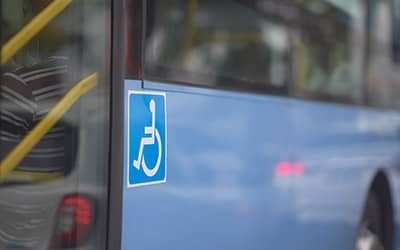 Accessible public transportation has been a hot button issue for many years. Here's why every public bus needs a bus wheelchair lift.
Continue Reading
Since 1963, BraunAbility has set the standard for commercial and public-use mobility transportation products. Our decades of expertise means you can always count on our products meeting the requirements of the Americans with Disabilities Act (ADA) and the National Highway Traffic Safety Administration (NHTSA).  Just as importantly, our commercial wheelchair accessible vehicles and lifts are designed to meet your specific needs, with performance, safety, and reliability that will keep your fleet up and running day after day, year after year.
When you make a purchase from BraunAbility, you are getting more than just a product — you are also getting our people.  Our customer service team is simply unrivaled, at every level, in every way.  We work to find you the ideal mobility transportation solution, no matter the requirements, complexity, or scale.  And after your purchase, we will work just as hard to offer you all the service and repair support you need. 
BraunAbility's goal is simple: to be the one-stop-shop for all your mobility transportation needs.
What separates BraunAbility from the competition is their exceptional parts and service capabilities after the sale. Braun makes it a point to take care of the end user long after the product has been delivered. This commitment shines in the market place.
- Mark Harris | Director of Commercial Bus Sales | Central States Bus Sales, Inc
BraunAbility is a cut above the others in preparing our wheelchair accessible buses and vans. It's the detailed attention to our product and ongoing support that sets their team apart from the others. RTEC has been a customer of BraunAbility since the 90's, when we first began writing our own specifications to purchase accessible vehicles. They went above and beyond the call of duty to bring examples of their workmanship and equipment to our lot. They provide ongoing training that we can count on for our garage team.
- Shirley L Cummins | Executive Director | Rural Transit Enterprise Coordinated, Inc. (RETC)
The biggest reason's I like having BraunAbility lifts is the quality of the products and the follow-up support from the sales team, to the technical support and the availability of parts. Warranty claims are easy and straight forward to complete. I have never called a BraunAbility representative and not been able to talk to a live person or received a call-back in a very timely manner.
- Troy Fregine | Director of Maintenance | Transit Team Inc.
Canyon State Bus Sales prefer BraunAbility wheelchair lifts due to the quality of the lift, parts availability, product support, and the availability of training classes. We see minimal warranty repairs on an annual basis.
- Chris Baroldy | Service Manager | Canyon State Bus Sales
We have use BraunAbility wheelchairs lifts in our bus fleets for some time now. The tower microswitch adjustments are much easier to understand than what we have worked on in the past. The lift seems like a very strong and sturdy build.
- John Swinbourne | Fleet Supervisor | Unified School District
Central States Bus Sales, has dealt with BraunAbility for many years. The products are exceptional and everyone in the organization is extremely professional, and are always there to support both us as a dealer, as well as with the end user.
- Jeff Reitz | President and CEO | Central States Bus Sales
testimonial1
testimonial2
testimonial3
Form Container - generic-contact,generic-contact
Please add openform-generic-contact,generic-contact class to buttons to show this form.