Spirit of Ability Winner Triumphs over SCI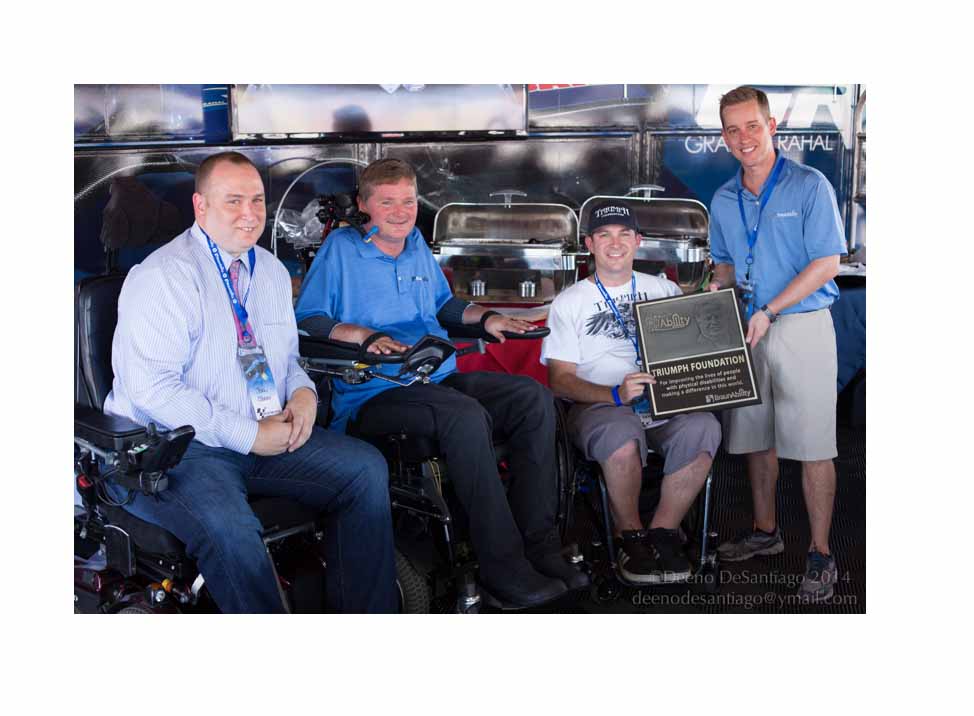 The final Spirit of Ability Award of the 2014 year was given at the Fontana Day at the Races event on Friday, Aug. 29. The sixth award went to a California-based institution on a mission of hope; Triumph Foundation makes it a daily goal to provide a pillar of support to anyone in California, or the surrounding area, after sustaining a spinal cord injury.

After enduring a spinal cord injury (SCI) shortly after graduating college, Andrew Skinner saw a need for someone to reach out to the newly injured populace. During his time in the hospital, he was surrounded by his family, friends, and loving girlfriend on a daily basis. The constant support that he was showered in from day one helped him bounce back from complete immobility to getting around in his manual wheelchair, still gaining more movement to this day.
"When people get hurt, their whole life changes," said Skinner. "The most important step is maintaining a positive attitude."
He and his wife, Kirsten, started Triumph Foundation to reach out and inspire individuals living with a spinal cord injury to keep moving forward and living life after their injury. Triumph Foundation also works to minimize any obstacles that one may face after an injury. The aim is to give everyone the support and capability to move on and recover that Andrew had after his injury. It doesn't stop after the hospital either, as Triumph hosts events, makes equipment donations, and provides support groups for SCI victims as they initially recover and for years afterward.
Andrew accepted the Ralph W. Braun Spirit of Ability Award on behalf of Triumph Foundation at the Day at the Races event. Sam Schmidt, a quadriplegic and IndyCar team owner (former driver), presented the award on behalf of BraunAbility and Conquer Paralysis Now. Sam then led Andrew and over 60 other guests on a tour of the race course, the pits, and supplied a lunch to all attendees.
In addition to the award, a $1,000 donation will be made to Triumph Foundation. The funds will go toward purchasing goodie baskets for newly injured people. The baskets include tools and resources for finding help and hope after sustaining a SCI.
Andrew and Kirsten are now running the Triumph Foundation full-time. He quit his job to have the time to give to his dream, and to raise his daughter as well. Every day he is out in the field in his BraunAbility van making hospital visits, and he has no plans to slow down.
"We are all in on this," said Skinner.
Congratulations, Triumph Foundation! The personal triumphs you give to people every day makes you more than deserving of this award.