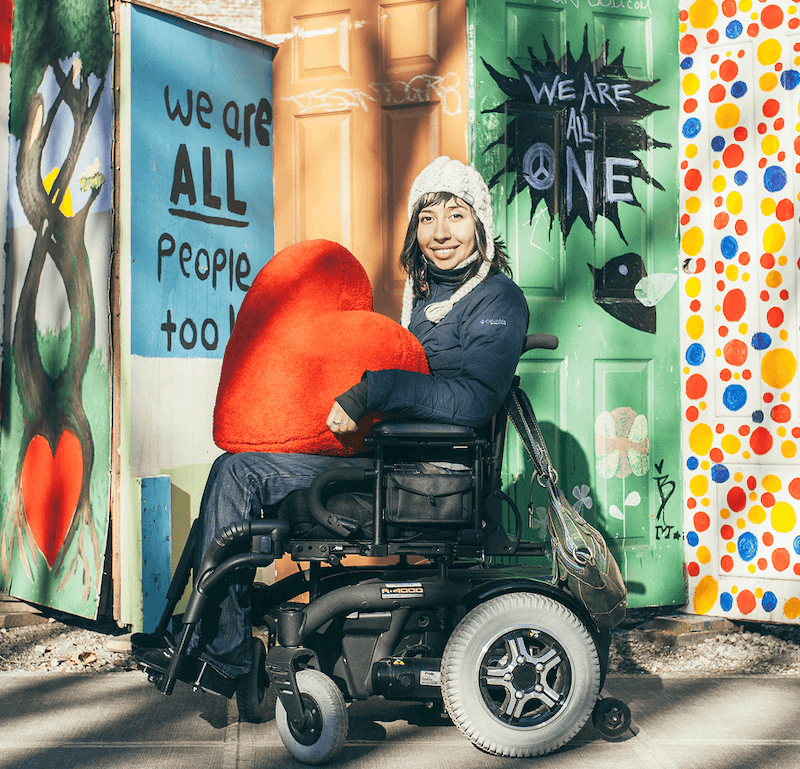 An artist at heart builds a community for people with spinal cord injuries.
Watching Reveca Torres behind a camera or artfully zipping around bystanders in a gallery would lead many to assume she had always been in a power chair. However, before the age of 13, Reveca was the third of six children, living in a busy household, with dreams of being a fashion designer, all sans wheelchair.
It was a trip the family took on New Year's Eve from Guadalajara, Mexico to Chicago that led to everyone being rushed to a hospital. Reveca's father was driving through the rain that morning when a semi-truck passed another vehicle and forced the Torres' car off of the road to avoid a collision. Their car crashed into a ravine and Reveca was instantly paralyzed.
Her dreams of being a fashion designer seemed unattainable. Sewing machines at the time were not accessible to someone who couldn't use their feet or fingers. Confiding in her high school home economics teacher, the instructor found a high-tech sewing machine in which everything was controlled by buttons. This launched her love of artistic expression and today Reveca has worked with everyone from actors to photographers, painters to directors. It's from the connections and support she found on her own that she was able to launch BACKBONES in 2008.
BACKBONES is a non-profit aiming to provide community support for the spinal cord injury (SCI) community by hosting organized activities that facilitate face-to-face interaction. This could be anything from wine tasting to soccer games to yoga. The goal is to match members of the SCI community together to find answers to questions they might have about raising kids or traveling abroad, or online dating – the kind of challenges that someone with a spinal cord injury could lend their unique perspective.