BraunAbility's Favorite Newlywed Shares Spinal Rehab Experience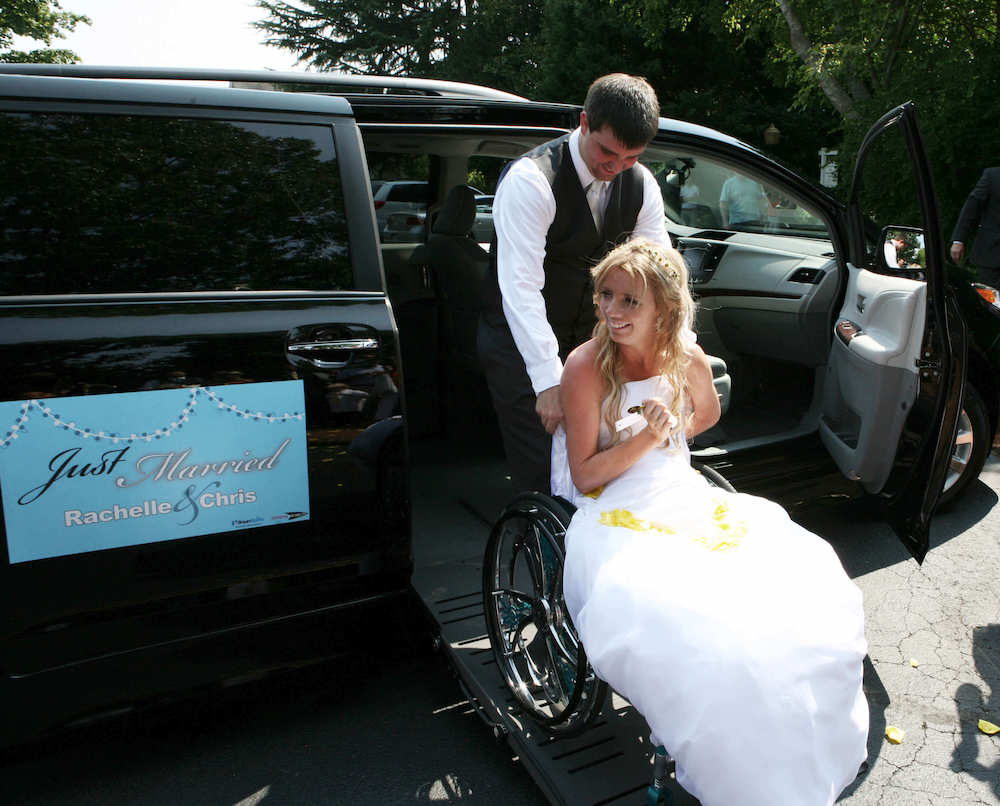 It's been a while since we've heard from Rachelle Friedman (now Rachelle Chapman) on what she's been up to as a newly married woman with a new Toyota Sienna side-entry vehicle. She sent us an update this week...and she's had some pretty amazing opportunities with a spinal recovery center in out West. Read about it in her own words, below!

The past few months have been so awesome as a newly married woman! Chris and I are so happy to finally be sharing our lives together as husband and wife. As many of you know, BraunAbility stepped up and surprised us on our wedding day with a brand new Toyota Sienna [...] I don't know where we would be without it! Besides being practical, the wheelchair van looks so cool. I never expected a van to look young and sleek, but it totally does!
This past month I was given the opportunity to attend Project Walk, a spinal recovery center in Carlsbad, CA, thanks to Walking with Anthony, a great nonprofit whose goal is to raise awareness of spinal cord injuries.
Mom didn't have the desire or stamina to drive across the country. So, we decided to fly out and then rent a van from Ability Center, a BraunAbility dealer...thank God we did! Going without my BraunAbility van for the first day and a half was a hassle! The hotel had a van, but I swear we had to lift me six feet to get into a seat...maybe that's a tiny exaggeration...but once we got our van, we were free to go wherever we wanted with ease!
And we definitely went places -- to the beach, shopping, Octoberfest and, of course, to rehab. I attended rehab at Project Walk for three hours a day for three weeks and man, did they kick my butt! Since I developed a very early stage of osteoporosis, I did a lot of weight-bearing exercises to combat it. Having low blood pressure is another thing I struggle with that improved while I was there. They also got me on my feet in the standing frame and gait trainer, and as I was gaining strength daily, I was eventually able to be up for about 15 minutes! This past week alone I've done five solo transfers to the bed, one transfer out of bed and my first transfer to the couch!
Next step...driving! I'll be starting the process soon with the help of my friends at Van Products, and I couldn't be more excited. This month will mark a year and a half since my accident, so I'm thinking it's about time to get behind the wheel! Hopefully I'll be able to do more motivational speaking, and I'm looking forward to driving myself to events.
Thank you, BraunAbility!