Neural Prosthetics Got Her On Her Feet Again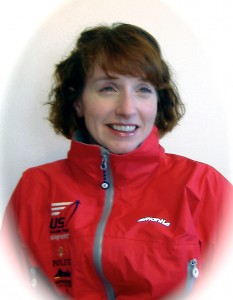 On March 13, 1998, a Friday of all days, Jennifer French was on a snowboarding trip. Her friends and she attempted special midnight run down the mountain slopes. Of the 12 who descended from the peak, only 11 made it to the base of the mountain. French took a 40 ft. fall through trees off of an embankment. The incident left French with a C-6 and C-7 incomplete spinal cord injury.
The avid athlete and practitioner of snowboarding, windsurfing, and many other sports, was now a quadriplegic.
"It really turns your life upside down," said French, a BraunAbility customer. "I went from being very active in sports and work to lying in bed."
Fully supported by family and her boyfriend, Tim (now her husband), she got back to work in mere months. She used her job to get her mind back in place and to focus her fighting mind. This mentality led to her discovering an FES (Functional Electrical Stimulation) bike that would change her forever.
French was introduced to the world of neural prosthetics and neurotechnology by the bike. The prosthetics and bike function through FES technology, which works by using electrical stimulation to control the muscles or nerves. This allows for men and women with disabilities to work and use muscles that otherwise lay dormant due to paralysis.
French was active again, and she wanted more. In 1999, she participated in a clinical trial at the Cleveland FES Center. She had implants inserted that allowed her to stimulate and move the muscles of her own legs, and for the first time since her injury, she stood out of her chair on her own.
The implants offered more than the obvious medical benefits. They allowed her to do things that are missed by becoming paralyzed: joining in a standing ovation, standing at the seventh-inning stretch, and walking down the aisle for her wedding.
French was the first woman to ever receive the type of implants that she used and became an active participant in clinical trials for neural prosthetics. She believed that she could work and lead the way to others standing on their own again as she had.
"Its amazing how much progress you make from learning from others who have been in wheelchairs said, French.
On My Feet Again, written by French, details her experience with neural prosthetics and the challenges of participating in clinical trials. Alongside the book, French founded the Neurotech Network, a non-profit organization with the focus of informing the public of the options made available by neural prosthetics and neurotechnology.
All of this brought French back to one of her life's passions: sports. She engaged with adaptive sports in New England, and never went back. This became not only a hobby but an experience that helped French to live her life to the fullest.
"It's amazing how much progress you make from learning from others who have been in wheelchairs," said French.
Her love for windsurfing brought her to the sport she now competes in: sailing. A sport where men, women, disabled and non-disabled all compete as equals. She raced her first regatta in 2003.
"When you are out racing alone in a boat against athletes and disabled athletes, it is amazing how independent you can be."
French raced with partner, Jean-Paul Creignou for Team U.S.A. in the London 2012 Paralympics and brought home the silver medal.
French is an accomplished sailor, decorated with eight Milan-Gruson Awards for the top disabled female skipper, and the 2012 Rolex Yachtswoman of the Year award, the highest honor available to a sailor. She is the very first disabled female sailor to win the award, and the second disabled athlete to win the award, after the legendary Nick Scandone.
French currently drives a new BraunAbility Toyota Sienna conversion, her third Braun vehicle.
French is moving forward in both sailing and advocacy. All the proceeds from her book go to the Neurotech Network in an effort to help others.