Bravo for Brian and his Spirit of Ability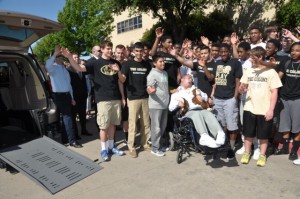 On Friday, April 25, 2014, BraunAbility and Ally Financial paid a visit to a suburb on the north side of Dallas, Texas. The Colony High School is a high school not quite like any other in the United States for two key reasons: one, there is a special young man by the name of Brian Bravo who attends the school, and two, their school is the very first recipient of the Ralph W. Braun Spirit of Ability Award.
On that sunny afternoon, the Bravo family received a rear-entry Dodge minivan from BraunAbility and Ally Financial. The donation was inspired by the Bravo4Brain fundraising efforts that the school had started to help Brian and his family. Bravo4Brian is a fundraising effort that has collected over $30,000 for the Brian Bravo Trust Fund since December. This incredible feat won Colony High School the first ever Ralph W. Braun Spirit of Ability Award.
Brian Bravo has paralysis from an accident that occurred in 2005. The accident took the lives of some of his family members. His father, Jose, raises Brian now, and the pair use a sedan to travel. The Colony High School basketball team has taken Brian into their family, with Brian now serving as the team's assistant coach. He has yet to miss a game or practice.
The team's coach, Cleve Ryan, helped establish the Brian Bravo Trust Fund to help get him and his father more adequate mobility equipment.
"The van, the extra monetary support, the rallying around a family who needed it — none of that would have happened without the first person saying, 'Maybe we could do something...'" said Greg Kiser, Vice President of Consumer Sales at BraunAbility. "Ralph Braun, our founder, lived that same spirit when he built the first motorized scooter and first wheelchair lift. He built an industry and proved just one person can make a difference, and we celebrate people who do the same."
This isn't even all of the donations. The local Mobility dealership, United Access, is installing floor locks for Brain's chair for free, and will pay the first year of insurance on the vehicle. Huffines Dodge/Chrysler has offered to donate a maximum care coverage extended warranty on the vehicle.
Ralph Braun taught us that it just takes one person and one idea to change the world around you. We celebrate and pass on Ralph's legacy through the Ralph W. Braun Spirit of Ability Award, given to an individual or group who has made a difference in the lives of people with physical disabilities. Coach Cleve Ryan and Colony High School have more than lived up to that ideal.