Active Quad Embraces Life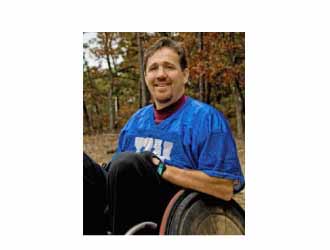 Active Quad Chooses to Do Everything and Embrace Life!
Nearly 20 years ago, Brian Amundsen was injured in a car accident that left him a quadriplegic with limited arm strength. As you'd expect after such a life-changing experience, he felt like life as he knew it was over. Luckily for him (and those of us who've had the chance to meet him), he's turned his life around and is an inspirational force who's not afraid of taking risks.
One of the people who helped change his perspective was Peter Zarba, former Sales Manager for Bussani Mobility. The first thing Pete did was persuade him to give up his full-sized van for a BraunAbility side-entry wheelchair van.
"I didn't want one," Brian remembers. "But he took me for a ride, and that day I bought one. It's just so much more convenient."
Even more importantly, Pete showed Brian how he could pick up on the active life he thought he'd left behind after the accident. He showed Brian a trailer for Murderball, a 2005 film that profiles members of the quad-rugby team that participated in the Paralympic Games. "I saw people hitting each other in wheelchairs, and I wanted in!" said Brian.
Brian had been playing for five years at the time of writing this article, and his team made it to nationals. Before he started playing, he was in a power wheelchair. Once Pete turned him on to the sport, he started working out regularly and built his strength enough to move into a manual wheelchair. "It turned my whole life around," he said.
Outside of quad-rugby, Brian has tried out sky-diving, loves driving his ATV four-wheeler, and spends as much time as he can on his accessible houseboat. With the right mix of influence, attitude, and accessibility, life can still be lived with the same passion.
Brian says it best, "You either do or you do not. You move forward or stay at home and don't do anything. I chose to do."
We're proud to be a small part of what keeps Brian active and so inspiring.