Driving Convenience Makes BraunAbility a Natural Choice
"Today, convenience is the success factor of just about every type of product and service that is showing steady growth."
This quote from Charles G. Mortimer, President of General Foods in the 1950's and 60's, may be dated, but it's never been more applicable to the consumer market. At BraunAbility, we recognize that our customers are no exception -- their lives are too active to be slowed down with extra hassles.
The importance of convenience was the focus of what Linda Sippel of Fond du Lac, Wisconsin, had to say about her new BraunAbility product. Her husband, Lee, suffered a spinal cord injury at the age of 58. It's one of those stories that leave you shaking your head. Lee was standing on a curb at a football game, hands in pockets, when someone called his name. He turned to respond, lost his balance, and fell hard enough to break his spine between the C5-C7 levels.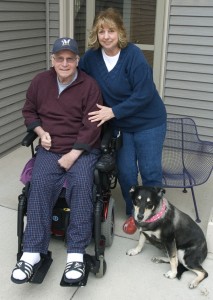 Lee and Linda had a lot of decisions ahead of them -- one of the first was what vehicle would best fit Lee's new condition and their lifestyle. "We knew we'd need an accessible vehicle," said Linda, "but we weren't sure how much strength and movement he would recover."
Lee regained some movement in his arms and legs during his four months of rehabilitation. His core strength never recovered, however, so what standing or walking he could do was hampered by a lack of balance.
A&J Mobility in nearby Valders introduced the Sippels to different vehicle options with transfer seats and wheelchair lifts. While these methods worked, they weren't exactly convenient -- especially during relentless Wisconsin winters. Each trip meant packing and unpacking his wheelchair -- manual or electric -- which could be quite difficult and uncomfortable with Linda standing in ten inches of snow.
Because of all the transfer hassle, Lee and Linda opted to fly on vacations instead of driving across country. But when the airplane crew that disassembled Lee's wheelchair couldn't figure out how to put it back together when they landed, the couple knew it was time to look for a new transportation option.
In April of 2006, they purchased their first BraunAbility side-entry wheelchair van, and the difference was obvious. "It was a huge improvement," said Linda. "The [wheelchair van] was much more convenient for our situation -- especially considering our rough winters."
The Sippels recently returned from their first driving vacation, a long road-trip from Wisconsin to Phoenix and Las Vegas to visit friends. They had such a great time that they're planning another trip this spring.
When they're closer to home, Lee and Linda like to go out for dinner and make regular visits to a local tavern, where the owner had an entrance ramp built especially for Lee. During the summer they take in local Minor League baseball games and occasionally head to Milwaukee to catch a Brewers game.
Convenience is a quality that shouldn't have to be sacrificed just because of a disability. Knowing we've made life at least one percent easier for customers like the Sippels is all the incentive we need at BraunAbility.
Other Owner Stories: