Antonio Dowels, Local Hero, Receives His Van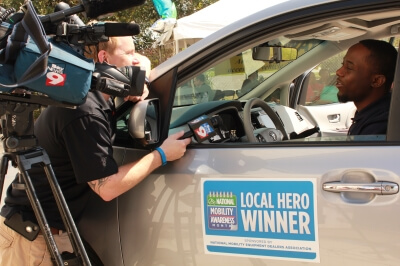 NMEDA, the National Medical Equipment Dealers Association, historically hosted its National Mobility Awareness Month Local Heroes contest each May. The winners, selected by vote from the public, received a wheelchair-accessible vehicle of their own, free-of-charge. On Monday, Feb. 16, 2014, one of the years' winners had his life changed forever

Antonio Dowels was a law student in Miami, FL. The former athlete was in a car accident during high school that left him a quadriplegic. Through hard work and a tireless will, Antonio worked dilegently in his therapy and regained the use of his arms. He didn't stop there, pushing on through college and into law school.
Antonio worked with Ride-Away in Tampa (now MobilityWorks) on getting his vehicle. The team there helped make the van a perfect fit for Antonio, who planned to use the vehicle to visit the family that lives five hours away from him when he is at school.
"We deliver freedom," said Jim Scruggs, then general manager of Ride-Away Handicap Equipment Corporation. "We in a lot of cases are giving back their legs and arms, and in a lot of cases if we don't adapt the equipment, they are stuck at home."
The Dowels family came with Antonio to receive the van and award with him. Local news was there as well to capture the culmination of Antonio's story. He had been on the same station during the contest's voting period. He credits his victory in part to the news station.
"I want to thank you, Linda, for putting my story out there on ABC Action News, everyone who heard about me and who voted, who reached out through you guys and helped me out financially," he said. "I just want to thank you, guys."