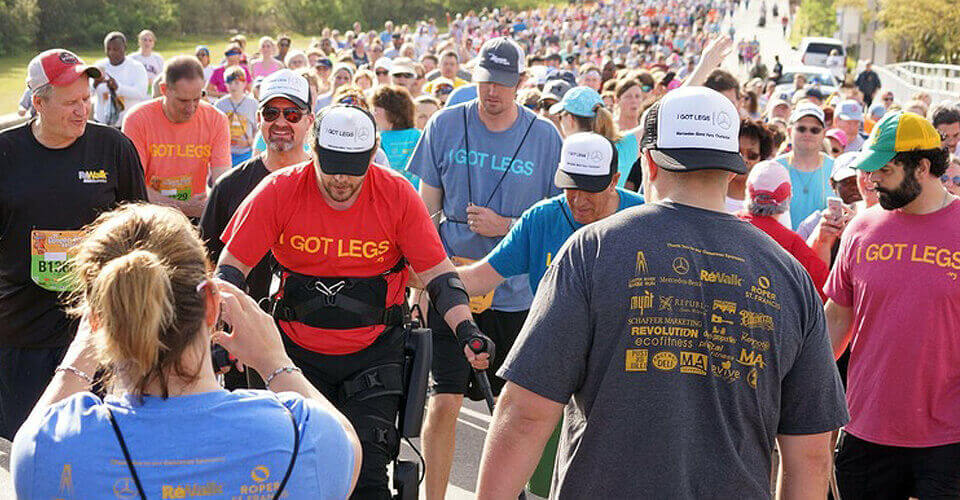 'I GOT LEGS' Founder Helps Others Fundraising for Mobility Equipment
Adam "Legs" Gorlitsky is now considered an expert at fundraising and even uses his charity, I GOT LEGS, to help others work toward fundraising for mobility equipment.
Adam started his fundraising journey two years ago when he asked for help to afford a ReWalk Exoskeleton–a robotic brace that allows a paraplegic, like Adam, the opportunity to walk again. It wasn't a small endeavor: one brace costs in the neighborhood of $95,000.
"I couldn't wait to get back out there. With any physical disability, you feel a little trapped in a way. Your freedom is taken from you," Adam said.
He jumped into his fundraising with fervor and now, two years later, he is running his own charity, has funded another big ticket item (his BraunAbility MXV), and flown all over the country to help others attain their fundraising goals as well. (Curious how he's progressed on his exoskeleton since then? See that here!)
So how did he do it?
Adam was hurt 12 years ago. "When you first get hurt, obviously it's a punch in the gut," he said. The casual way he said it sounded like a minor inconvenience rather than a life-changing injury. But, then again, to Adam and his exoskeleton and MXV, nothing is impossible and nothing is unattainable.
He identified four things that helped him to achieve his goal through the ups and downs that came along with fundraising for mobility equipment.
1. Social Media Presence
"There's so much stuff out there now on social media. To really capture people's attention, you have to post non-stop on your [platforms]," Adam said. He created a campaign around his progress when training with the exoskeleton and educated would-be donors about the purpose of the "legs."
2. Don't Put All Your Eggs in One Basket
The adage "Divide and Conquer" was a mantra for Adam, who thought he could meet his fundraising goals in time on GoFundMe but wanted a more concentrated effort. Not one to sit back and wait, he created his own "I GOT LEGS" t-shirts, which even made their way to some celebrities like Stephen Colbert.
3. Higher Social Purpose
"I knew I was going to create an organization around this exoskeleton," Adam said. Teaching others about your vision for when you achieve your goal is important, not just to persuade people to donate but it also helps to keep you accountable. If you don't want to create and manage a company, that's okay," says Adam. Altruism doesn't stop at a macro level. "Do it for yourself, but do it for someone you really care about," he said. "Do it not just to enrich your life, but someone else's, too."
4. Be Vulnerable
"In order to ask for help, you have to be vulnerable. I think people are too scared to put themselves out there in a vulnerable way," Adam said. He said that he had to learn how to openly share his full story. Though he wasn't necessarily comfortable with it, Adam knew that he couldn't reach his fundraising milestone on his own. So, sacrifice on his part was necessary to help him get there. "It's not normal to be scared to go out in the world and reclaim your previous life," Adam said.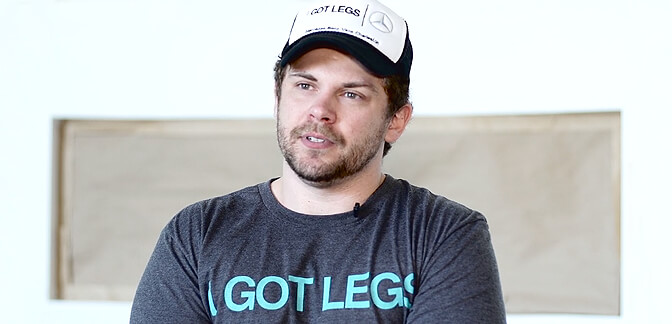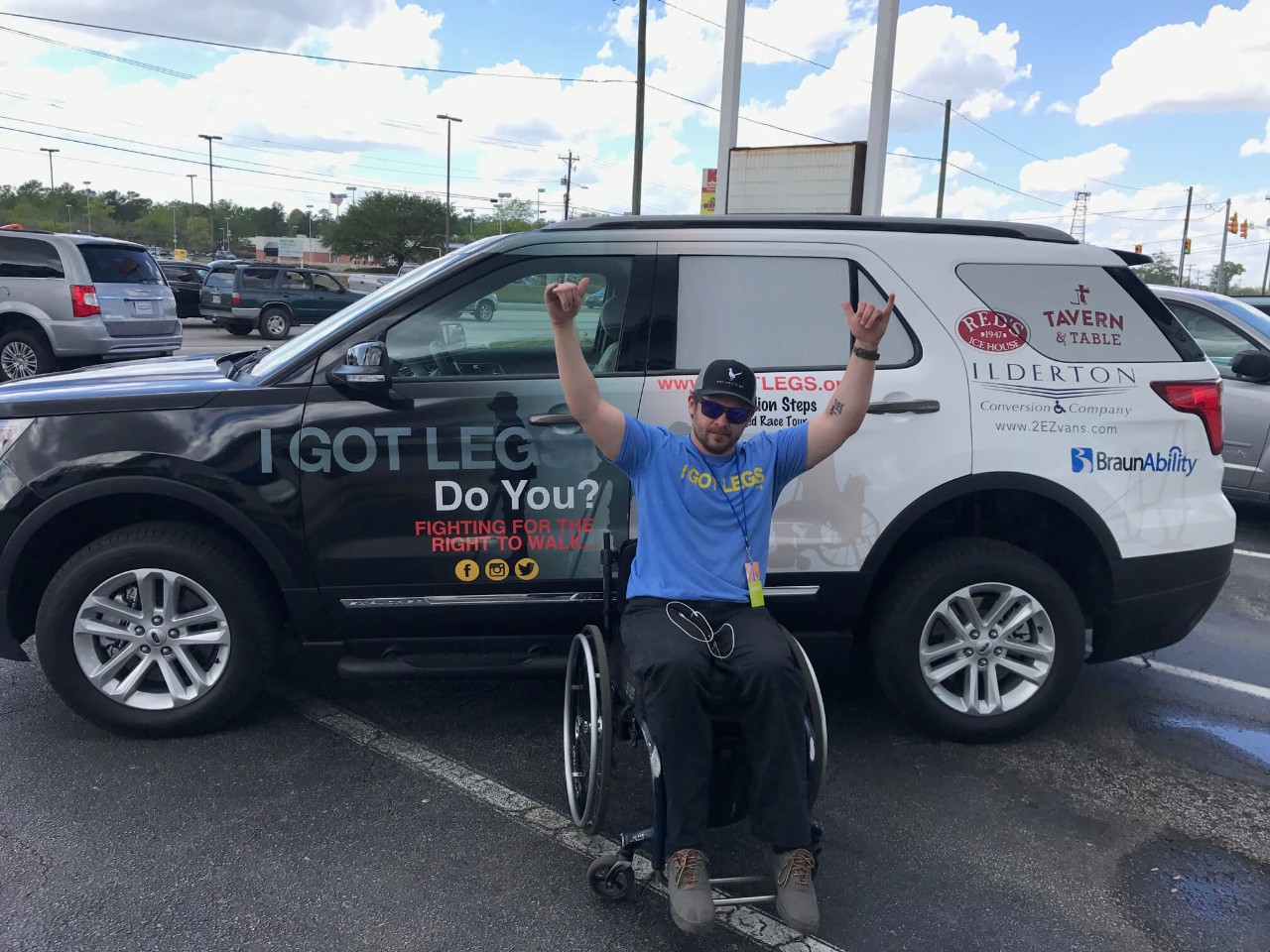 Adam is now starting the I GOT LEGS Step Tour Fund allowing anyone that is in training on an exoskeleton or any leg brace walking technology to reach out to I GOT LEGS to create their own Step Tour. Once you sign up for a race, I GOT LEGS will pledge a dollar amount for every step that you take to pay for a personal exoskeleton or other walking technology.
"It also allows the person who is in training on their exoskeleton and other leg brace technologies to earn back their 'legs' on the road," said Adam.
Once the money has been raised, participants in Step Tours don't have to stop. Adam says that they can pinpoint other things which would enhance the accessibility in their lives or community (such as a ramp to their house or an accessible beach ramp).
"To be honest, all these ideas come to me when I'm riding my handcycle or when I'm driving in my MXV," Adam said. "Driving is like the one place where everything kind of makes sense."
Adam knew what kind of car he needed, but wasn't sure he could find the dream car that he'd built in his head. A minivan, the standard wheelchair accessible vehicle, wasn't an option for him.
"Everything I own–my shoes, my shirt–is all a form of self-expression. I wanted a car that reflected who I was too," he said. "I had to find a car that not only matched what my personality was but accommodated my chair, too."
For the past 11 years, Adam was getting in and out of his car 10-15 times a day. Then he reached his breaking point.
"It really started giving me a level of anxiety," he said, remembering the struggle of breaking down and putting his wheelchair back together again in the past. "By the time that I'd come home at night, I would sit in my driveway for like 15 minutes mentally preparing myself. I just couldn't do it anymore."
Now, not only does the MXV fit the young entrepreneur's style, but it easily accommodates his wheelchair too so that he can spend less time and energy breaking the chair down and more time dedicated toward helping others achieve their fundraising goals.
Just four steps separated Adam from the multitudes of others asking for help, but it all came down to determination.
"Freedom is really everything. Gaining your independence back…it just opens up your whole entire world."

Other Owner Stories: