What Handicap Equipment is in a Wheelchair Van?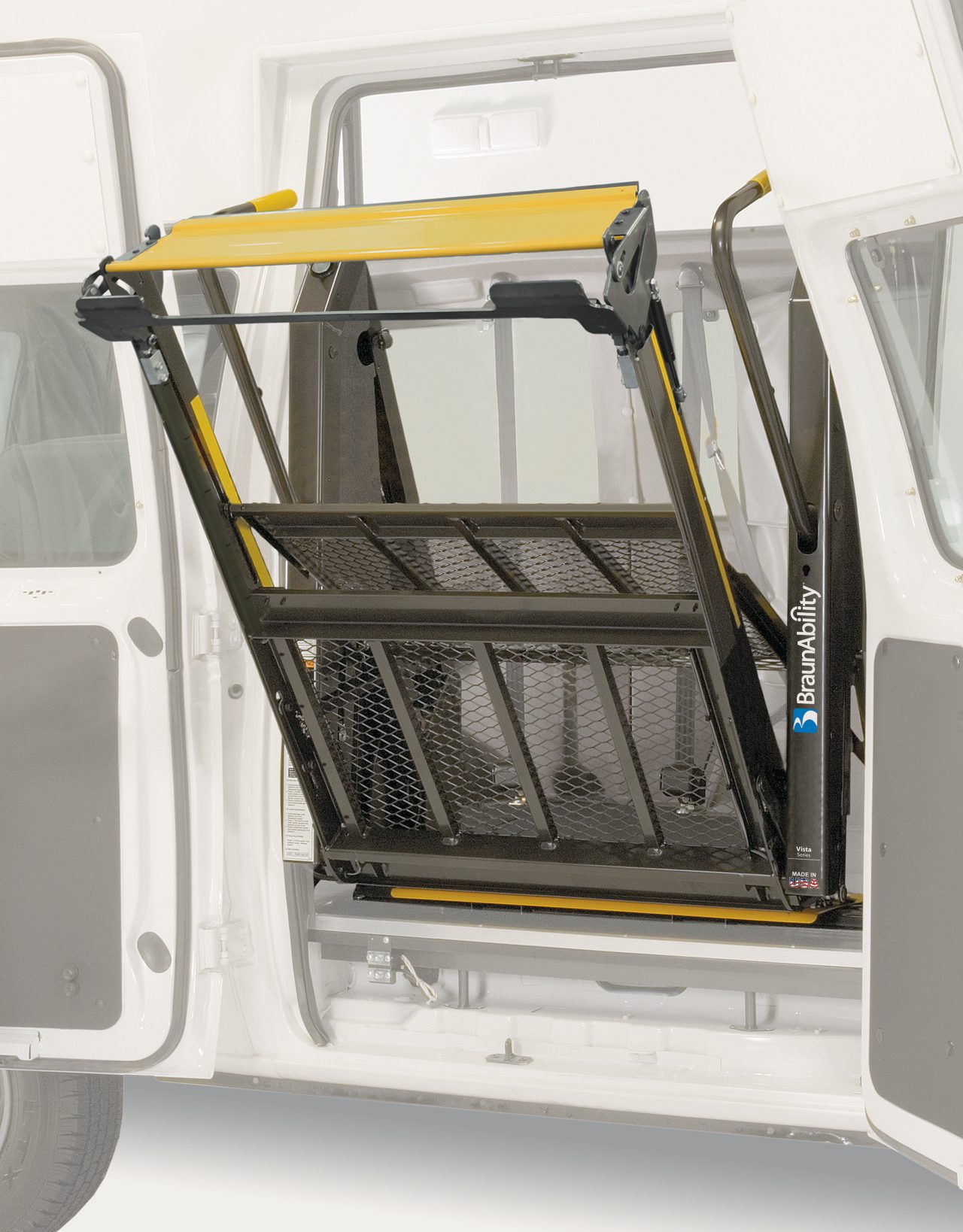 Americans spent over $2 billion converting more than 40,000 vans and cutaway buses for wheelchair users to ride in or drive during 2018.
The number of Americans with disabilities continues to grow every year. To accommodate their needs, and remain in compliance with the Americans with Disabilities Act (ADA), there have to be more wheelchair accessible vehicles available for them to use.
What handicap equipment is required to consider a vehicle accessible? Keep reading for a list of necessary accessibility equipment.
Wheelchair Ramps
Wheelchair ramps allow the user to roll right into the vehicle. They are great for people who cannot transfer from their wheelchairs into a van seat. These ramp styles can't be incorporated on a standard vehicle and are part of BraunAbility's full vehicle modification.
Infloor Ramp
These ramps are made to slide into a custom-built storage space under the vehicle's floor. A huge benefit of an infloor ramp is they are out of the way when not in use, allowing ambulatory passengers to enter and exit the van without needing to extend the ramp first. 
Foldout Ramp
Foldout ramps are installed so they sit just inside the van's sliding door when not being used. These are the most common ramp currently in use because they are cost-effective. Some users opt to use a manual version of the foldout ramp design to further cut back on total vehicle cost. 
Wheelchair Lifts
Wheelchair lifts provide users with weak upper body strength or larger wheelchairs an efficient way to get in and out of a vehicle.  
BraunAbility offers multiple styles of platform lifts for commercial vehicles and are rated for motorcoach, paratransit, and cutaway bus installation. Platform lifts are primarily hydraulic so they operate smoothly and don't jostle the wheelchair user. These lifts collapse and store vertically in most cases until needed. 
Some models of platform lift even fit under the vehicle so they don't take up much-needed passenger space.
Wheelchair Tie-Downs
Wheelchair restraints ensure the passenger remains in a safe, forward-facing position when the vehicle is in use. For tie-downs to work correctly, there should be four straps attached to sturdy points on the wheelchair frame. The wheelchair user should also use a shoulder and lap seat belt. This prevents the chair from moving in any direction in case of an accident or if the van stops suddenly. 
Tie-downs come in two varieties: retractable and manual ratchet. 
Retractable restraints work like standard seat belts. Once the tie-down is pulled out and attached to the proper point on the wheelchair, it automatically tightens. These tie-downs are loosened by pressing a release button. They take up very little space when not in use.
Manual ratcheting tie-downs are a more affordable option, but require more time to secure and generally need an assistant to help the wheelchair user. The straps hook onto the wheelchair and are manually tightened with a ratchet. Another problem with ratchet tie-down systems is they aren't as small as retractable restraints and can get in the way.
Wheelchair Anchors
For wheelchair tie-downs to work correctly, they need to be connected to anchors on the vehicle's floor.
These anchors should be arranged with two directly behind the wheelchair so the strap rests at a 45-degree angle.
The front anchors need to sit a little wider than the wheelchair. 
Wheelchair anchors are available in track systems for large vehicles and a space-saving floor pocket design for use in vans and SUVs.
Automatic locking systems are also available and require altering wheelchairs to add a docking pin or bolt. 
Swivel Seating
Swivel seats are similar to rotary chair lifts, but instead of lifting the wheelchair user with the chair, it utilizes the original seat or an aftermarket seat to lift just the person into the vehicle.
These seats are great for passenger vans, SUVs or trucks. They're used by people who can transfer from their wheelchairs, but don't have the upper body strength or stability to pull themselves into the vehicle. They also can be a great option for the elderly if vertigo becomes a challenge. 
Swivel seats provide disabled or elderly passengers with the safest way to travel. Swivel seats do require installation of a programmable seat base to a vehicle and can take the place of a driver, front passenger or rear-passenger seat. Check our vehicle compatibility for swivel seats to ensure this seat has been tested in your vehicle of choice.
Need Help Installing Handicap Equipment in Your Van?
With so much to remember about creating an accessible vehicle solution for your customer, it can be challenging to know where to begin. That's why we're here to help. 
BraunAbility has been around for almost 50 years and is a trusted leader in the mobility product industry. Let us put our years of experience to good use for your business.
We will walk you through every step of creating a custom accessible van for commercial use that uses the safest handicap equipment currently available. 
Contact us today to begin creating an accessible vehicle for your business.

Foldout Wheelchair Ramp
The BraunAbility foldout ramp system has been a workhorse of our wheelchair accessible vehicles for decades. The foldout ramp is easy to operate, easy to maintain, and folds easily against the door allowing for space to be maintained inside.
Infloor Wheelchair Ramp
With easy-to-use functionality, the BraunAbility infloor ramp is a customer favorite. It stows out-of-sight, making entry and exit easy for other passengers, too.