3 Tips to Find the Best Accessible Wheelchair Van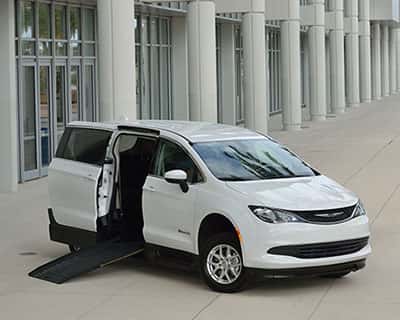 If your business's day-to-day operations include transporting passengers, you must ensure your vehicles are all-inclusive. This means incorporating accessible wheelchair vans into your fleet. Depending on your business, it might be wise to use wheelchair vans exclusively.  
Wheelchair-accessible vehicles are ideal for churches, nursing homes, group homes, private schools, non-emergency medical facilities, and more. Your goal should be to make the lives of your passengers as hassle-free as possible, particularly when entering and exiting a vehicle. 
What you must decide is how to find the best accessible wheelchair van. We're here to lend a hand. Keep reading for three excellent tips on how to choose a wheelchair van that best suits your needs and the needs of your passengers. 
1. Choose a Reliable Vehicle
Certain vans, buses, or RVs can be converted into a wheelchair-accessible van. However, the van you choose for your business must meet other important standards, such as:
Reliability
Affordability
Safety
At BraunAbility, we're proud to offer high-quality wheelchair minivans. These include Chrysler, Dodge, Toyota, and other full-size options. Choose from our vehicles based on the needs of your passengers, your budget, and your personal preferences. 
2. Decide Between Rear-Entry and Side-Entry
BraunAbility accessible wheelchair vans can be converted to meet your exact criteria. This includes your choice between rear-entry vans and side-entry vans. 
Both types of vehicles have lowered floors in specific areas to allow for more headspace. However, there are pros and cons to each setup.
Rear-Entry
Rear entry wheelchair minivans are typically less expensive to convert. Because of the wheelchair's position in the back of the van, they also offer more room for multiple sizes of wheelchairs. 
However, a rear-entry van does not allow the passenger in the wheelchair to move forward through the van. They will not be able to drive or sit in the front passenger seat. 
Since your business handles the driving and transportation, this may not be of great concern. Rear-entry wheelchair vans can use both automatic and manual ramps.
Side-Entry
Side-entry wheelchair-accessible vans allow the wheelchair passenger to move to the front of the van. In these vans, the front seat is usually removable, allowing the wheelchair passenger to remain in their chair but sit next to the driver. Side-entry wheelchair vans are more common but typically cost more to convert. Like rear-entry vans, side-entry vans have both automatic and manual ramp options. 
3. Find the Best Ramp Style
Finally, you must decide if your want a fold-out ramp or an in-floor ramp in your accessible wheelchair van. As with the different styles of entry, there are pros and cons to each type of ramp.
In-Floor Ramps
In-floor ramps slide under the floor seamlessly. This can provide several inches of extra space compared to a fold-out ramp. 
However, depending on the wheelchair user, some in-floor ramps are more difficult to use. The ramp angle might be too steep for a manual wheelchair user, though you or your employees will most likely be helping passengers enter and exit the vehicle. 
Fold-Out Ramps
Fold-out ramps take up a little more space, though they are designed to fold up as compactly as possible. However, even a few inches can make a big difference if you're transporting a passenger with a large wheelchair. Furthermore, some fold-up ramps in side-entry vans preclude the front passenger seat from reclining.
On the positive side, some people find the angles of fold-out ramps much more accommodating. Additionally, fold-out ramps have bigger side rails to help wheelchair passengers stay on the ramp while entering and exiting the van.
Are You Looking for an Accessible Wheelchair Van for Your Business?
If you own a business that caters to passengers with all levels of abilities, we highly recommend adding an accessible wheelchair van to your fleet. Your customers, patients, church members, or clients deserve to have their needs met with ease and comfort.
If you're looking for a wheelchair van, locate a dealer near you. We would love to work with you.