Wheelchair Accessible Vehicle: Rear Entry or Side Entry?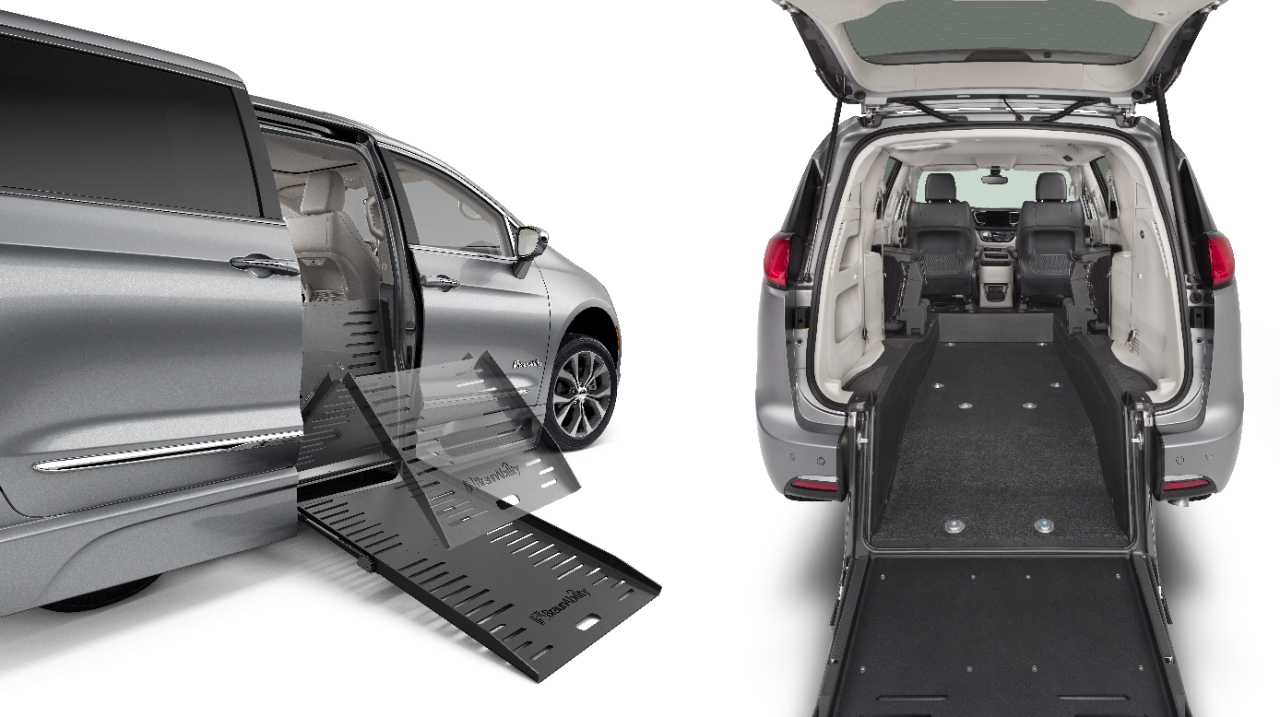 For decades the use of minivans converted to comply with The Americans with Disabilities Act (ADA) has provided transportation freedom for people who use wheelchairs, and people with mobility impaired disabilities. These specialized people movers, also known as WAVs (Wheelchair Accessible Vehicles) are specially modified with either a side loading ramp or a rear loading ramp. Both configurations have benefits that lend well to certain industry use.

Generally, side-entry (SE) WAVs are used when the operator is utilizing the vehicle for accessible transportation primarily, such as in applications such as service in public transportation and paratransit, schools, and assisted living communities, where designated stops are often made, and a safe and clear area or curb is available. The ramp is always located at the curbside middle row sliding door. Side-entry WAVs from BraunAbility include two ADA compliant wheelchair locations, one in the midship and one available at the front passenger location. A removable passenger seat is standard with BraunAbility side-entry ADA conversions and a three-passenger third-row bench is retained.
Rear-entry (RE) WAVs feature a ramp that deploys for loading from the back of the WAV. In comparing a rear-entry WAV to a side-entry WAV, rear-entry WAVs tend to be more universal in meeting the demands of industries such as Taxi, Ride-Share, Non-Emergency Medical Transport (NEMT), and other forms of demand-responsive service and forms of Mobility as a Service (MaaS). Due to the nature of those businesses, responding to a curbside-based ride-hail or app-based ride-hail, rear-entry WAVs allow for increased wheelchair access in congested, metropolitan areas. Often curbside access is limited due to streetside parking, bike lanes, and other obstacles preventing a side-mounted ramp from reaching a curb, and side-entry is not an option. Rear-entry WAVs also allow entrance on either side of a one-way street, allowing people using wheelchairs the same freedom as other riders, without having to cross busy streets.


Rear-entry WAVs are generally offered in two configurations, long floor, and short floor.
Long floor converted WAVs, have an ADA lowered floor area for wheelchair riders to either ride in the middle row area or the third row, and have ambulatory seating in the form of bucket seats adjacent to the driver and passenger side doors. These seats can be folded and stowed when a person using a wheelchair chooses to ride in the center row. This configuration is very popular for non-emergency medical transportation operators, assisted living, and hospitality, due to its versatility.
A short floor WAV allows for one person using a wheelchair and the ADA location is in the third row where the OEM bench was before conversion. This conversion generally retains a middle row three-passenger bench in the center row, allowing for the most seating capacity, and is highly utilized in the Taxi and Ride-Share industries. WAV service is available by taxi and ride-share providers throughout the United States. Higher volumes of these WAVs are available in the more populous cities such as New York City. Chicago, Houston, Los Angeles,
Washington DC, Philadelphia, and is regulated locally by city-appointed agencies.
For ride-share drivers, a third-row two-passenger fold-away seat can be installed increasing passenger capacity to six plus the driver. In many cases, this capacity qualifies the vehicle in a larger class for the ride-share platform which they choose to drive for, such as Uber XL or Lyft XL when not transporting passengers using a wheelchair, making the RE short floor
ADA conversion a very universal and versatile choice for private commercial transportation.
When considering a commercial vehicle, make sure the converted vehicle meets federal standards, durability testing and emissions in all 50 states.  All commercial vehicles manufactured by BraunAbility® are certified to comply with the applicable Federal Motor Vehicle Safety Standards. In addition, BraunAbility vehicles have been impact tested as well as submitted to third-party extended durability testing. All BraunAbility vehicles are California Air Resources Board (CARB) compliant, the most stringent emissions test requirements in the United States.
Whatever the application, a consultation may help you navigate the process. BraunAbility dealers can assist you in selecting the right vehicle for the right application.