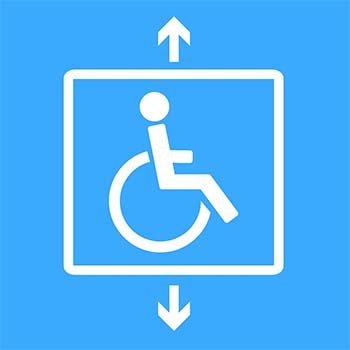 Did you know about 11% of Americans with disabilities use wheelchairs? They're not exactly a rare sight, so being able to accommodate a wheelchair while traveling is vastly important.
How do you do this? Well, by using a wheelchair lift vehicle. These vehicles use what are called wheelchair lifts to board passengers onto the vehicle.
Wheelchair lifts are essential to wheelchair transportation safety, so if you're transporting someone in a wheelchair, you'll want to look into getting one.
Let's explore what a wheelchair lift vehicle is, how to use one, and where to buy them.
A lift vehicle is essentially a spacious vehicle (typically a van) that comes with the necessary tools and adjustments to be able to transport people with wheelchairs. 
Lift vehicles come with a wheelchair lift that allows passengers to mount safely and securely into the vehicle so that any injuries are prevented during transport. Going into transit without proper wheelchair lifting equipment can be difficult because people with wheelchairs would have to try to squeeze into vehicles that do not accommodate them.
Buses and vans alike include wheelchair lifts. You've probably seen the little platforms that move up and down on a public bus. That's a wheelchair lift.
Next, we'll go over some general guidelines on how to use a wheelchair lift. 
How to use your wheelchair lift ultimately relies on the make and brand you have. But with that in mind, here are some general tips for using a wheelchair lift.
First, please make sure to do a thorough inspection of the lift. Ensure everything is secured and in the right place. 
Open the door that leads to the wheelchair lift and secure the lift onto the vehicle so it doesn't damage the passenger. Make sure there is no oncoming traffic and the passenger has a clear path to the vehicle.
Flip the switch so that it's in the 'On' position. Use the remote control on the side of the lift to lower the vehicle down.
Load the passenger and secure their wheelchair. Maneuver them up using the remote control. Once you are done loading the passenger in the vehicle, make sure they are secured into place and close the door correctly. 
Preparing to Install a Wheelchair Lift
Before buying a wheelchair lift for your vehicle, make sure that you have a sizeable vehicle that's able to fit the lift in. Most wheelchair lifts usually fit into vans and buses, but check the diameter and overall size of the wheelchair lift.
At Van Braun, our wheelchair lifts come with both ease of access and safety in mind. Our team will help you with installation if necessary. 
Additionally, we provide professional support if your wheelchair lift needs any maintenance or adjustments. 
What Is Included in a Lift Vehicle?
When you buy a lift vehicle, like conversion vans, your purchase comes with a few things to help keep your passenger safe and secure. The vehicle comes with the wheelchair lift already pre-installed to save you time and money. 
Additionally, when you purchase a lift vehicle from Van Braum, your van will come extra features including but not limited to:
ADA commercial flooring
Seating for up to 7 passengers
Lowered floor sections 
ADA ramp lighting
Transmission interlock 
Emergency exit release for the rear hatch
Before buying your lift vehicle, make sure the supplier you are purchasing from is ADA certified. 
At Van Braun, we pride ourselves on delivering the safest and highest quality wheelchair lifts available on the market. We carry different designs of lift vehicles, all with your favorite car brands such as Chrysler, Dodge, and Toyota.

We even supply individual wheelchair lifts themselves if you already have a lift vehicle. If you're interested in looking at our selection, please visit here.