BraunAbility Wheelchair Ramp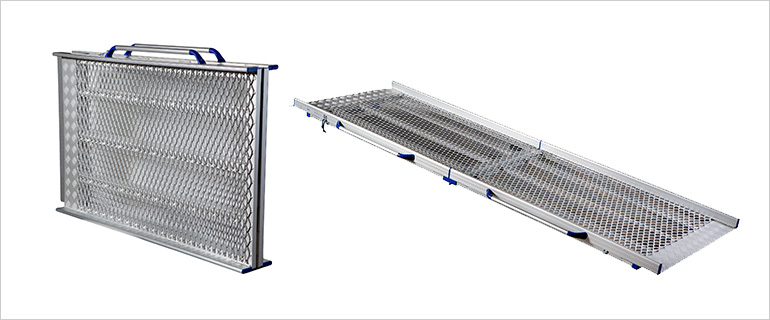 This product not sold in the United States. This product is manufactured by BraunAbility Europe. If you have any questions about it, please contact them by clicking here.
Choosing a wheelchair is always a carefully weighed decision. So is the choice of wheelchair ramps. Having the right wheelchair ramp in the right place boils down to ensuring accessibility for the wheelchair user.
There are so many different types of terrains to navigate. This is why BraunAbility offers a range of ramps adapted to diverse situations. Your environment and where you need to go are two factors that will determine which types of fixed and portable ramps are best suited to making your mobility easier and safer.
You have probably already dealt with converting your house into a wheelchair accessible by building an outdoor wheelchair ramp. We are firm believers in increasing your mobility, and that why our European HQ places emphasis on the continuous innovative expansion of our wheelchair ramp range.
Europe's Finest At Your Doorstep
Braunability is a proud member of the European Mobility Group (EMG). As such, your ease of mobility is uppermost in our mind. All our products conform to strict European standards and guidelines. Aside from our Headquarters in Sweden, we have production facilities in the United Kingdom and Denmark. 
The standards are for your own safety and protection. Our products, including all models of wheelchair ramps, are tested by established third-party institutions, the Research Institute of Sweden - RISE and Germany's TÜV.
Getting In and Out of Your Vehicle
BraunAbility is experienced in vehicle conversion. Tailboard ramps are typically secured to the vehicle with our specially designed floor mounting plates. They are easy to mount and lock into place, and easy to remove and provide excellent grip.
Our heavy-duty commercial ramps for community vehicles and ambulances are based on the same principle. Our two-part and three-part foldable ramps focus on practicality and ease of handling.
The Portable Wheelchair Ramp
Our portable ramps (watch the videos) come in various shapes and sizes. They are designed with trips away from home in mind, and for places that do not have fixed ramps. All models are functional and versatile, built for load-bearing strength and durability.
Their safety features include easy locking into place, handles that fold out of the way, and non-slip surfaces.
Each of the following types come in different sizes and lengths, and have proven adaptability to all sorts of situations encountered when you're out and about:
Folding ramp 
Telescopic ramp
Folding telescopic ramp
Fixed ramp
iRamp Portable (folds lengthwise, good for electric wheelchairs)
iRamp Carbon
Anyramp
The idea behind these lightweight ramps is the ease of use, safety and strength, and mobility freedom. When stowed away, the portable ramps take up very little space. In other words, they make going out and about the pleasure that it should be.
All of the ramps listed above are available in a range of sizes, and all come with a three-year manufacturer's warranty.
Access On the Rise
A well-placed wheelchair ramp can make all the difference to your life. Whether you're planning a vehicle conversion or simply want to have the right ramps in the right places for you, we feel certain that BraunAbility has a product to suit you. Contact us if you have any questions. We're always happy to provide one-on-one support on any of our products via our dealerships and representatives in over 60 countries around the globe.
Other Products from BraunAbility Europe: