BraunAbility Transfer Board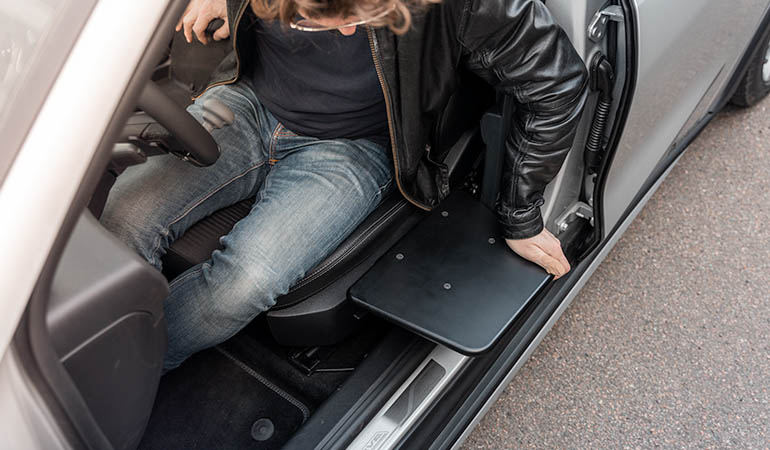 This product not sold in the United States. This product is manufactured by BraunAbility Europe. If you have any questions about it, please contact them by clicking here.
When it comes to getting in and out of cars, a transfer board can make all the difference for people with disabilities. In case you're not sure, a transfer board is a smooth, sturdy surface that people in wheelchairs can use as leverage to get into a vehicle. It's also sometimes known as a tip-up plate. 
Whether you want to use one or find the best board, you've come to the right place. BraunAbility is the accessibility expert of Europe, and we're going to tell you everything you need to know about transfer boards. At the time the BraunAbility Transfer Board is not available for sale in the United States.
Read on to learn more. 
Why Use a BraunAbility Transfer Board
The BraunAbility Transfer Board is simple yet effective for helping you enter and exit a vehicle. The level finished surface allows you to slide on and off while remaining comfortable without any snags. 
If you've never used a slide transfer board, don't stress. Installing and using one is straightforward. Once it's attached, you won't have to worry about adjusting or changing anything. You'll have a reliable transfer plate in your car that you can utilize for years to come. 
Flexibility
As easy as they are to install, it's important to know they're not permanent. BraunAbility's transfer plates can be removed just as easily as they were installed. So if you need to change the side that yours is on or place it in a different car, you can do so with little effort.
Durability
We pride ourselves on the durability of our products, and our transfer board is no different. It's heavy-duty enough for everyone from adults to children and can hold a max weight of 140 kg. The seat is also wide and roomy, making getting in and out of your chair and the car easy. 
Innovative Design
We're changing the game with our innovative design. BraunAbility's transfer boards were designed to be discreet. Whenever you need to use it, slide it out, and set the board flat. When you're done, putting it away is just as quick. The transfer board will slide back in and stay in place. 
Adaptable
Our transfer board is adaptable enough to go in a variety of cars. However, we recommend using them for lower cars like sedans instead or higher vehicles like trucks or SUVs. BraunAbility has a team of vehicle adaptation specialists who can customize a transfer board to your needs if you need something more custom.
A Transfer Board You Can Trust
BraunAbility believes in mobility for all, so you can trust that our transfer board will have all the qualities you're looking for. They're not only smooth and sturdy, but they're also discreet and functional. On top of that, they won't damage your car during installation and can easily be moved from different vehicles. 
If you're ready to get a reliable wheelchair transfer board from BraunAbility, find a local dealer to get started now!
Other Products from BraunAbility Europe: