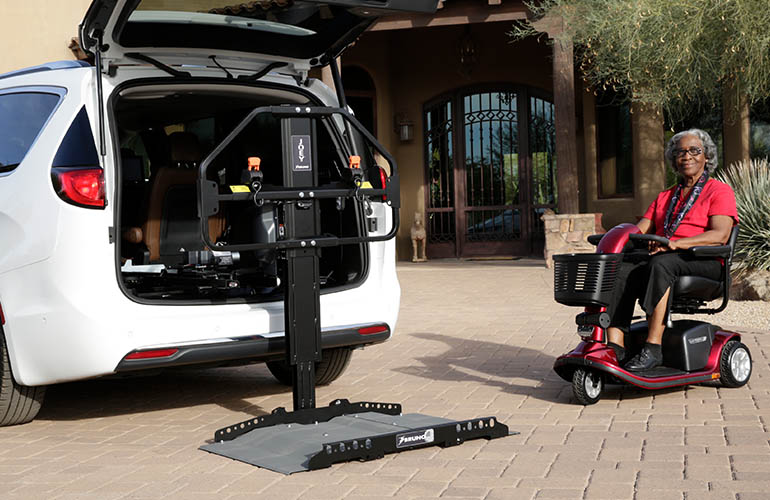 This product not sold in the United States. This product is manufactured by BraunAbility Europe. If you have any questions about it, please contact them by clicking here.
You have a comfortable, battery-operated mobility scooter or wheelchair that you love. The only problem is that it is too heavy for most people to lift into the car. That's when you wish you had one of those easy-to-operate platform lifts.
The Joey Lift is the ideal platform lift for those who want to move further afield than their neighborhood block without inconveniencing stronger family members and friends. We'll give you an overview of the features and advantage of Joey Lift platform lifts, although we know you won't need a whole lot of convincing.
Is My Vehicle Big Enough?
The lift's overall height is 794 mm (just under 32.5 inches), with an overall width of 993–1099 mm (39–42.5 inches). The length is 1113 mm (just short of 44 inches). This hydraulic platform lift is designed for the conversion of the rear entry of a larger multi-passenger vehicle.
The platform for the scooter or wheelchair measures 990–1090 mm (39–43 inches) by 710 mm (28 inches) and can bear weights of up to 159 kg (350 lbs). Strong and stable, the Joey lift stows and retrieve your mobility device with a two-button (In and Out) switch. Great care has been taken to ensure that the platform lift is not complicated to operate and that it keeps your mobility device safely stowed away during your journey.
How Do I Get My Wheelchair Onto the Platform?
To position your mobility device on the platform, simply drive it on to the platform that is level with the ground. It has a slight ramp to make this easier. The built-in wheel chocks ensure stability when you disembark from the chair.
The Joey Lift is intended for users of mobility devices who have some ambulatory mobility. You and your carers will be able to judge whether the platform lift is practical and suitable for you. Ask us about other vehicle conversion possibilities if you need something different to improve your traveling experience.
Safety Considerations for Wheelchair Platform Lifts
BraunAbility complies with strict European safety standards. All equipment is safety tested. The mounting brackets of the platform lift have been pull and crash tested to the equivalent of 30 G. This means that the specially designed safety barrier and the brackets will prevent your mobility device from entering the passenger area of the vehicle in the event of a crash.
Lighting When You Need It
Often the thoughtful touch is the one most appreciated. The Joey lift comes with illumination of the platform area and the In-Out hand control so that stowing and retrieving at night is just as safe and easy as it is during the day.
Drive On-Drive Off 
Drive-on, drive-off platform lifts like the Joey Lift can be transferred from one vehicle to another if ever you decide to buy a new car. This is done with care, like everything at BraunAbility, so that your former vehicle loses none of its resale value.
Contact a dealer near you via our website or send us a message. We know that purchasing mobility equipment is an important step to take, and we'll answer all your questions about the Joey Lift to make sure you make a decision that is right for you.
Other Products from BraunAbility Europe: