BraunAbility Folding Ramp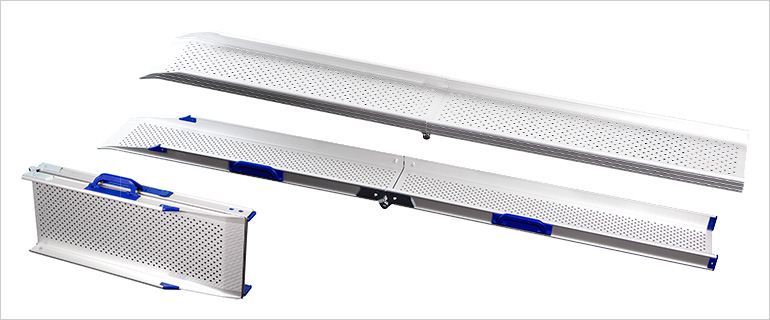 This product not sold in the United States. This product is manufactured by BraunAbility Europe. If you have any questions about it, please contact them by clicking here.
Despite the fact that 131 million people use wheelchairs, people with disabilities are reminded every day that not everyone considers all their users' or customers' needs when they design their businesses and vehicles. The good news is that this doesn't have to stop you if you have the right tools.
A folding ramp is one of those tools. For a person in a wheelchair, your portable folding ramp can transform almost any vehicle or building from a roadblock into an open door.
About Our Folding Ramp
The BraunAbility folding ramp is designed for wheelchair users of any age and ability level. These freestanding ramps fold in half so you can transport them anywhere. When you need a ramp, you simply unfold it and put it in place.
We offer seven models of folding ramps. While the general design is the same, they each have their own dimensions and specifications so each wheelchair user can find the perfect fit.
Benefits of the BraunAbility Folding Ramp
Ramps make the world accessible to anyone who uses a wheelchair, but a folding ramp is special. Consider these top benefits.
Portability
As beneficial as a modified van may be, many people with wheelchairs don't use the same vehicle for every trip. That's why our folding ramp is portable enough to bring anywhere. This makes almost any vehicle wheelchair-accessible.
While our ramps vary in size, some are just 22 inches long while folded. They have a handle on the side as well, making them easy to carry and store.
Versatility
While we often talk about ramps for vans and vehicles, your vehicle isn't the only thing that needs to be accessible. Everyone who uses a wheelchair has felt the frustration of arriving at a business to find one or two steps and no ramp, making it just barely out of reach.
Because our folding ramp is freestanding, you can use it anywhere. That includes buildings and sidewalks with curbs that would otherwise put a hurdle in your way.
Safety
Safety is critical in a ramp, especially for people with injuries that affect their balance. That's why we've incorporated several safety features into our foldable ramps.
To start, the ramps include locks to keep them closed while you're storing or transporting them. This ensures that they don't unfold and hit you or others while you transport them.
The ramps also feature a specialized surface texture for a stronger grip. In fact, some of our customers use these ramps on top of outdoor ramps during the winter when the outdoor ramps are slippery because they have more grip on our textured ramps.
Choosing Your Folding Ramp
There are many features and circumstances to consider when you're choosing a ramp. That's why our team offers a wide range of ramps, from our folding ramp to the telescopic ramp and more.
To explore your options and find the perfect ramp for your needs, explore our wheelchair ramps today.
Other Products from BraunAbility Europe: