BraunAbility Portable Ramps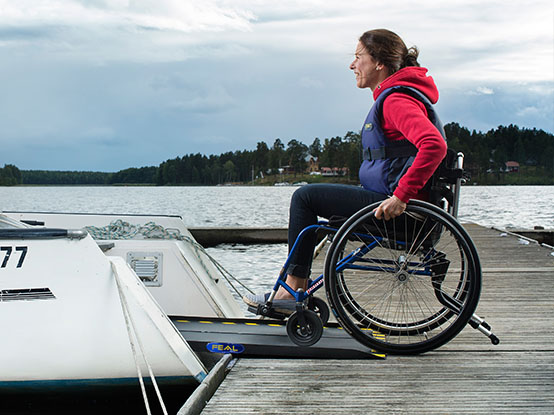 This product not sold in the United States. This product is manufactured by BraunAbility Europe. If you have any questions about it, please contact them by clicking here.
There's hardly a time where accessibility isn't vital to performing everyday tasks. When places aren't optimized for everyone's needs difficulties arise. Portable ramps aim to help fix that problem. Portable ramps allow for ease of access to different venues, while also granting accessibility out of vehicles and unmodified homes. Here are several different types of portable ramps and their unique utility.
One of the core tenants of modern design is to create universally accessible spaces.
Alas, not all cities have caught up to these new principals. Fortunately, folding ramps are simple and easy to travel with. They come in a variety of sizes and widths to match your specific need.
These single fold wheelchair ramps are tremendous and simple. They come together easily and are a piece of cake to transport and store.
The best portable wheelchair ramps offer flexibility wherever you go, overcoming whatever situation you come across.
Telescopic ramps are ideal in long environments. Unlike folding ramps, telescopic ramps slide start as one small unit, then can be extended to meet the length of whatever situation it's required for.
Like folding ramps, they come in different lengths and sizes. In general, the longer the length of the telescopic ramp, the less max-weight it can carry.
For example, the smallest telescopic ramps can extend to three feet in length, carrying  440 pounds while the longest ramps, at almost nine and a half feet, can only carry 275 pounds.
Fixed ramps are a fixed length. While still portable, they are a single piece of material. These ramps are great if you know the measurements you need regularly.
Examples are having a ramp permanently outside your home, inside covering a ledge or small stairwell, or having it at a friend or family member's home you visit regularly. Other mobility solutions can be found here.
The iRamp is a folding ramp that folds length-wise. Unlike the other metal-surfaces, the iRamp has a traction surface, great for electric wheelchairs, or three-wheeled scooters.
Due to the length-wise folding design, the iRamp is incredibly lightweight and can support over 800 lbs of weight, which is great for those with hefty electric wheelchairs.
If the traditional iRamp is too heavy or doesn't fully meet your needs, there is another model, the iRamp Carbon.
Made of carbon fiber, it's lighter than its counterpart by over 30%. It does sacrifice on weight, however, only being able to carry 550 pounds.
The Anyramp is a lightweight, non-slip portable loading ramp. The main appeal of the Anyramp is its wide array of applications combined with its easy-to-mount and dismount frame.
Anyramps hold over 800 pounds of weight, but the trade-off is, depending on the length of the ramp, they weigh between 24 and 70 pounds. 
Portable Ramps Make for Accessible Living
Even as design veers towards making public and private spaces more accessible, portable ramps will always have some utility. While they come in different shapes and sizes, the goal is simple: to make life more accessible for those with mobility handicaps.
At present, BraunAbility Portable Ramps are only available in Europe. To learn more about BraunAbility and how we can help you find better mobility solutions for your life, check out our recommended articles below.

Other Products from BraunAbility Europe: