BraunAbility Tailboard Ramps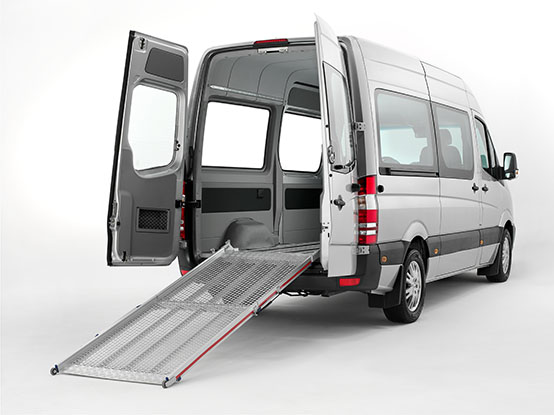 This product not sold in the United States. This product is manufactured by BraunAbility Europe. If you have any questions about it, please contact them by clicking here.
Managing disabilities often requires a lot of precision, understanding, and the right equipment. Even the simple idea of getting into a car or van can become a big task if you are operating in a wheelchair and by yourself.
That is where items like tailboard ramps come into play. A ramp gives you a way up into a van from a wheelchair, but a quality tailboard ramp gives you safety and precision.
Curious how to get that quality tailboard ramp? Let's show you how BraunAbility can help! 
What Are Tailboard Ramps?
Tailboard ramps are foldable metal ramps that attach to the hitch at the back of vans and trucks, allowing for easy loading of wheelchairs. 
The core aspects for a good tailboard ramp come in 3 parts. First, you need a sturdy connection to the van. Second, you need the ramp to be stable under lots of weight. Third, it needs to have easy and variety to fit a particular set of needs. 
What Sets BraunAbility Apart?
BraunAbility fights to make a more accessible world. Helping people get the highest quality tailboard ramps and other disability assistance products are our mission.
To make that a reality, we provide quality products like none other. 
1. Durability and Precision
The FEAL tailboard ramps can handle up to 600 kg of loading pressure, taking on almost any wheelchair loading need with ease.
The reinforced sides help guide wheelchairs up and down the ramp, as well as avoiding any accidental slips off the edge.
The edges are also reflective to better navigate in low light. 
2. Easy to Use Ergonomic Design
The selection of tailboard ramps all has a simple but effective ergonomic design to make operating the ramp quick and easy. 
The latches to secure the ramp form right in place, with easy connection points. The ramp itself has an anti-slip surface that provides a quick and stable platform to move up and down.
In case of emergency, you can operate the ramp from within the van, allowing for quick escapes. This also allows for a faster deployment overall, as the tailboard ramp can deploy at a moment's notice.
3. Sizes and Varieties for All Needs
The standard commercial tailboard ramp from FEAL has different varieties to fit the right space and length that you need.
The standard two-part ramp provides a single bending point for storage, compacting it with ease for storage. The three-part ramp provides additional folding for shorter storage. 
Longer ramps can provide less steep of an incline, making for slower and more stable movement. This can help those with less control over their wheelchair to have a more gentle time getting on and off the ramp.
Getting Quality Assistance From a Quality Provider
Quality tailboard ramps can give you a clean, easy, and efficient way to get in and out of any van. Making basic tasks accessible and simple again is what conquering disabilities are about.
We here at BraunAbility believe in crafting excellence to match the quality of our customers. From our services to our platforms, you will find the support you need to succeed. 
Other Products from BraunAbility Europe: