Rise Above Excerpt: Innovating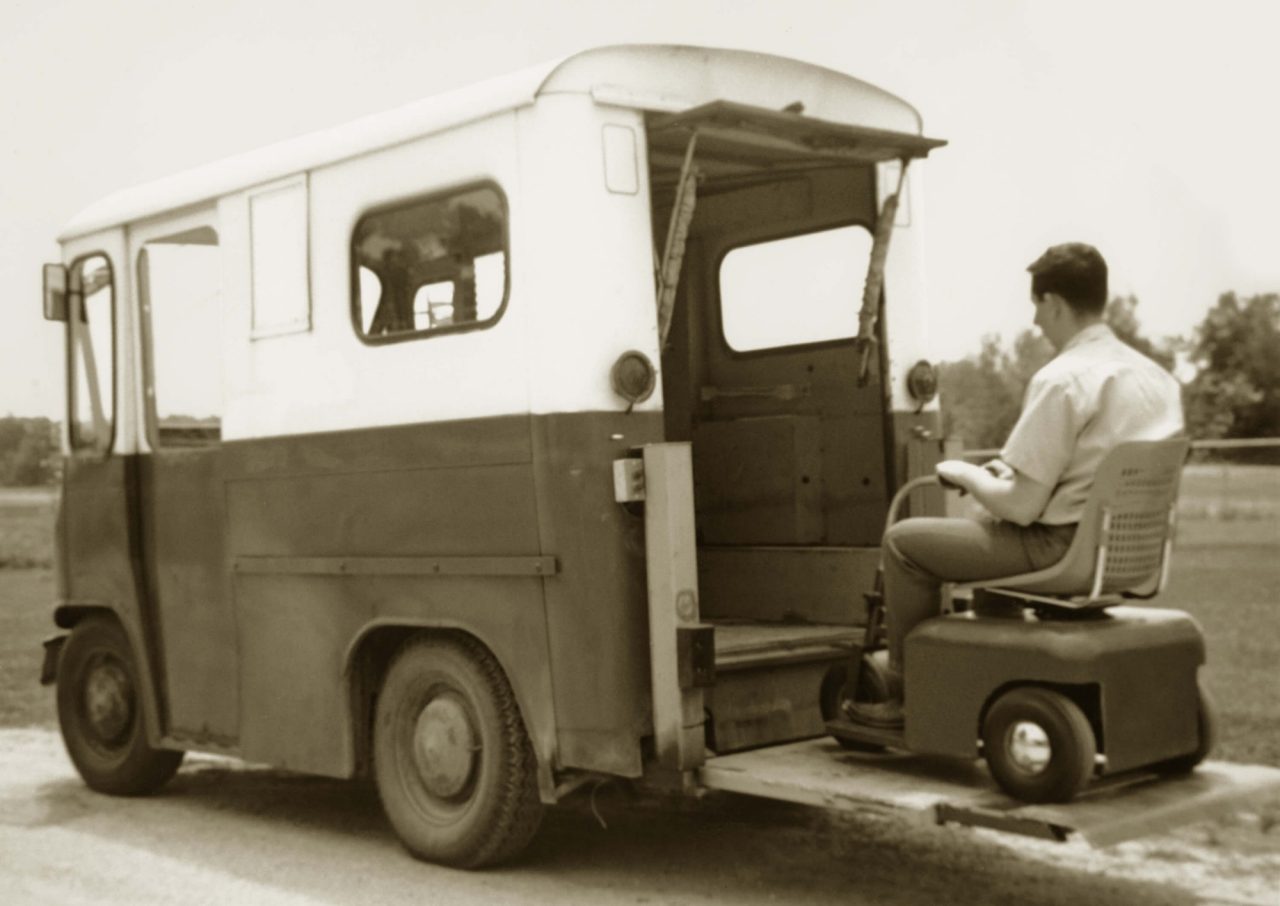 In Chapter Ten of Ralph Braun's upcoming book "Rise Above," we follow the creation of the first "modern" wheelchair lift. The old Post Office Jeep had served it's purpose and was unceremoniously sent to the junkyard. It was time for an upgrade, and the Dodge B-van came along at just the right time.

This new vehicle with a forward-mounted engine would spark a revolution, and Ralph immediately saw the possibilities. His mind kicked into high gear, designing a new lift for it right away. But there was only one problem - he first had to wait a few agonizing months for the van to arrive:
~ From Rise Above, Chapter Ten: Sparks Fly ~
In April of 1970, as my Jeep was headed to the big junkyard in the sky, I moved on without a trace of sentiment. Quickly, I turned my attention to a vehicle I'd seen at the local Dodge dealer. It was called a B-van, fresh off the assembly line, and when the salesman opened the side doors and I looked inside, my eyes just about fell out of my head.
Put another way, I knew that one day sparks would be flying between us.
This new van was a big deal for two reasons. First, I had never bought a new vehicle before, so the purchase would represent a sizeable portion of my income. Second, unlike any other model on the market at that time, the van's engine was pushed forward. Because the floor was also relatively flat, once I took out the driver's seat, I'd have a clear path all the way up to the steering wheel.
To make it even more attractive, the B-van was greatly improved over its predecessor. In addition to features that increased its performance, the van was stylish, with a dashboard, trim, and comfortable seats that were as good as, if not better than, those in passenger cars. Finally, it came with power steering, power brakes, air conditioning, and a fresh-air heater and defroster.
Compared with my post office Jeep, this was like a living room. The possibilities were endless. I could take my family to church. I could go anywhere.
Even though I knew I had to have it, I was determined to play it cool in the negotiation, just like my father taught me. If I gave away too much information too early, I'd be showing my hand, like a poker player, and the salesman would have the advantage.
Slyly, I lobbed my question, "How much are you asking for this thing?" I figured "this thing" would make it seem less important to me.
The salesman smiled. "$3,200."
"I'll take it," I blurted out. The salesman kept smiling. It was only $100 less than the price of my trailer home.
As I left the dealership, my mind was wired. I could not wait for delivery. I started calling on a daily basis to ask when it would arrive. The van was made in Windsor, Ontario, and because it was a brand-new vehicle, they said I would have to wait for delivery from Canada.
That was not the answer I was looking for.
I pressed further, really becoming a pain in the neck. Finally, in August, they did something that was unprecedented in those days: they loaded my van on a truck by itself and drove it straight to my parents' garage from Canada.
I rubbed my hands in anticipation. It was time to start cutting steel.
The arrival of the new Dodge B-van was an "aha!" moment for Ralph - he knew right away it was the solution he'd been waiting for. Like so many other times in his life, he found himself at the right place at the right time. Some might call him lucky, but I would argue that he makes his own luck by preparing for and taking full advantage of an opportunity when it comes along. It's a trait that has served BraunAbility and the disabled community very well indeed.
Related Articles: