Rise Above Excerpt: The Future Arrives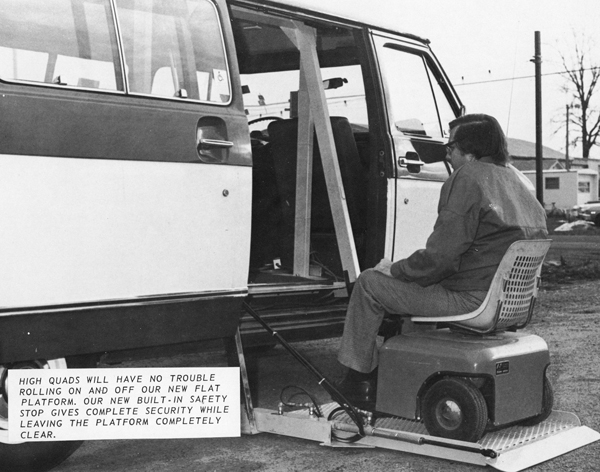 Shortly after Ralph Braun built the world's first wheelchair lift for his own use, the future arrived in a hurry. Chapter 11 of Rise Above follows the first lift orders, which came from very insistent customers who would not take no for an answer. They had seen what the lift had done for Ralph, and they were looking for the same freedom themselves.

In this excerpt, Ralph had just agreed to design, build and install two lifts in two weeks time the night before. Now, he just needed to figure out how he was going to do it!
~ From Rise Above, Chapter 11: Crazy Good TImes ~
When I went back to work at my quality control job that day, I told my boss, Charles Stapp, what had happened and what I was going to do. I explained to him how I'd already ordered all the parts I was going to use but I also needed to hire some people on a temporary basis to help me out.
So, I hired him-my boss, that is. Not only that but also I hired two of my other coworkers.
If I had stopped to really think about what was happening, I might have become too overwhelmed to go through with it. But I didn't stop; I plowed forward. When I did, my boss and the other two guys said, "You tell us what to do, and we'll do it."
Why did they agree to help me so quickly? First, these men were my friends. Second, they were all mechanically inclined, so they knew how to do the work. Third, they had families, and they wouldn't mind making a few extra bucks. But more than anything, they wanted to see just how much I could accomplish with a little help.
People sometimes ask me how I can have a global company based in an Indiana cornfield. They ask me how I can attract and retain talent out in "the middle of nowhere." I believe it has something to do with the example of building these first lifts.
To me, having values matters. Having a good work ethic matters. Caring for your fellow man matters. These guys had all of that, and the people who work for me today do, too. What's more, I think all of that matters to our customers as well. Whether they are even consciously aware of the values, work ethic, and care that go into every single product we make, they experience those things through our quality and reliability and through the lives our mobility products help them live.
However, it's a long way from those first two lifts to today.
The "values that matter" to Ralph helped him build a global enterprise offering freedom to millions of people in just under 40 years. Though the scale may be a bit larger today, each wheelchair lift and wheelchair van built by BraunAbility receives the same attention to detail and quality craftsmanship as the first two lifts that went out the door. After all, Ralph's still at the helm and he wouldn't have it any other way.
Related Articles: