Rise Above Excerpt: Determination and Focus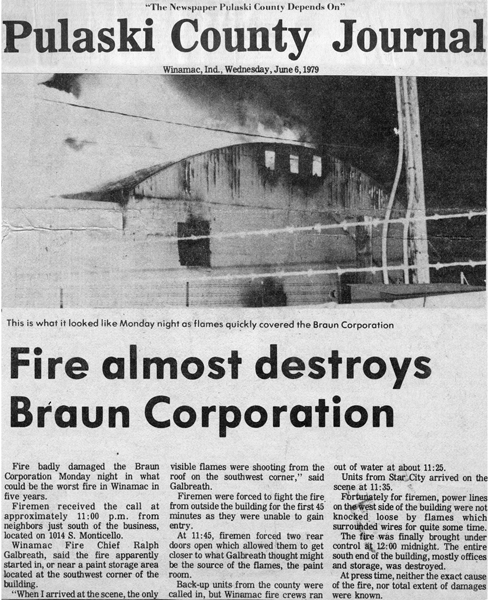 The launch of Ralph Braun's new book "Rise Above" is only weeks away, and things are starting to heat up, literally! In Chapter 15, we follow the story of the devastating fire that nearly destroyed the company on a warm summer evening in 1979.

In this excerpt, Ralph describes how he and his employees took it all in stride and got back to work among the ashes the very next day.
~ From Rise Above, Chapter 15: The Fire ~
Back on the ground, we cobbled together a place to work. For our office space, we rented a nearby filling station for 90 days and a couple of trailers for two years. Our payroll person sat writing checks at a folding card table under a tree. Office furniture and records were removed from the building and put on the front lawn. We sent most of our manufacturing employees home when they came in on Tuesday morning but told them to come back at noon the next day. Because the manufacturing portion of the complex did not appear to have direct fire damage, production schedules would not be affected that much, once we cleaned up the space with a lot of elbow grease, power-washing, and paint. In addition, we brought a few machines outside, put them on a concrete slab under a tent, hooked up some electricity, and continued working during the cleanup.
We were back in business within a few days.
In retrospect, we could have been buried by the fire's destruction. A lesser company might have succumbed to its fate. But in making the best of a bad situation, we actually forged a new and even more successful path. Why were we able to do that? Two words: determination and focus.
The determination was the easy part. Personally, I'd had a lifetime of people telling me I couldn't do things. From the doctor who said I wouldn't survive, to the school administrator who said I might as well stay home, to the man who thought those boys in the wheelchairs would fail, I had plenty of reasons to be motivated. The last thing I was going to do was let any of them have the satisfaction of seeing me fail, even if it was because of an unforeseen disaster that was out of my control.
One of our strengths at BraunAbilityis the capacity to adapt to new challenges quickly. The fire certainly tested this faculty to the extreme, and overcoming the disaster was very much a team effort. Many of the people who were here 30 years ago still work at BraunAbility today, a testament to the determination and focus of our founder and CEO, Ralph Braun.
Related Articles: