A Life-Changing Mobility Solution for Toddlers
How One Family's Son Inspired Them to Invent Their Own Mobility Solution and Share it with the World
Our friends Taylor and Ally Moreland have an incredible story and have taken inclusion for their son, and dozens of children nationwide, into their own hands. We asked if they would be willing to share their story with the Driving Force, and thankfully they said "yes"! Read on to learn more about Brody and his amazing, innovative parents. 
We are Taylor and Ally Moreland, parents of Brody. Together, we have developed a new mobility device for babies, toddlers and children who have difficulty moving their legs. We call it The Frog. We know these Frogs will change the lives of many children and their parents, just as it has changed ours' and Brody's. We would like to share Brody's story with you, and let you know why mobility and independence is so important for us as parents.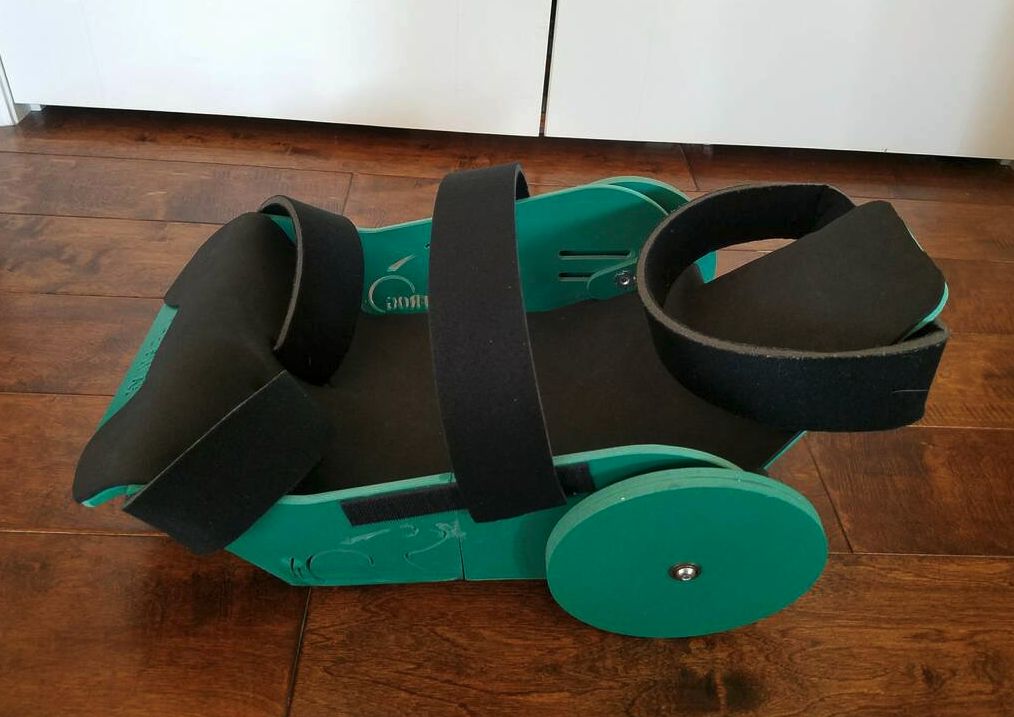 Brody Ray Moreland was born on April 3, 2017. He was born with a spinal cord defect known as spina bifida. He underwent two surgeries immediately after birth and another four revisional surgeries over the remainder of 2017. Brody's doctors and neurosurgeons did a great job, but his level of defect, coupled with newly discovered spinal cord atrophy, meant that he would have very little to no movement or control of his lower body starting below his chest. This meant Brody would not be able to sit unsupported, crawl, or be mobile in any way on his own. After this realization, Brody's mobility became a top priority for us. 
With the help of Brody's tremendous physical therapist, Gerti Motovalli, and a lot of practice, Brody was able to use a baby wheelchair to maneuver around the house. This was very exciting but Brody still wasn't able to play on the floor, go certain places, or interact with toys the way other kids his age do. Brody needed a way to crawl. 
After numerous late nights and trial and error testing, we created the first Frog in August of 2018. This was a truly life changing time for Brody. Before The Frog, Brody was stuck on the floor wherever we put him, and he had a very hard time playing with most of his toys. After he started using The Frog, he was able to roam around the house, chase the cat, play with toys and do everything that any crawling baby could do. His cognitive development exploded over this period. For the first time he was able to truly explore his world.

Over the past year we have made changes to the design and production of The Frog. Now Brody spends hours a day in his Frog. He can seriously go faster in it than we can walk, which is pretty good for a 2 year old who can't move his legs! According to multiple physical therapists, there is nothing available like The Frog. It is the first real mobility device designed for children with disabilities as young as six months old. To date, we have given out over 70 Frogs in the US and Canada, with another 70 on order.
Children all over the world are born every day with disabilities that affect their mobility early in life. We have seen how much Brody's life has changed because of The Frog, and it is our hope to change many other children's lives. Just because a child can't walk or crawl shouldn't mean they can't explore their world.
Did you like this article? Keep up to date on the latest from The Driving Force by joining the community.
Form Container - driving-force-form,driving-force-form
Please add openform-driving-force-form,driving-force-form class to buttons to show this form.