A Journey Beyond the Cure
We are always on the lookout for a cure. Televisions display images and messages of that magic panacea that guarantees a fix to whatever ailment we may face. But what happens when those silver bullet cures don't work? For one man, that answer is to embark on a journey that may be one of the biggest challenges of his life.
Robin Bates was diagnosed with Multiple Sclerosis (MS) at the age of 30. At this time, his life was a veritable whirlwind of change. He had only been in the States just shy of two years. Having emigrated from South Africa to San Diego, he had recently wed his lovely wife and was seeking employment, all within the space of 3 months. Robin was not deterred and soon found work.
As time went on, his MS got worse, and Robin was left in a wheelchair and had to stop working. Like many others, he set to work to try and find a way to take back his life. After numerous cloud-in-a-bottle cures and tricks failing, Robin knew he had to take the hard way back.
Robin decided that he would take a cross-country trip in his power chair, from west coast to the east coast. His wife consulted a physician and the physician told him that he should not go unless he got himself in shape. These events collided together to create Robin's MS Journey.
"She is awesome," said Robin. "I don't know what I would do without her."
Robin's MS Journey is an initiative to take back his life by his own work. He is taking a year to exercise, eat a more wholesome diet, seek a variety of therapies and more to get himself back up and feeling stronger, and to reduce symptoms as much as possible so he can embark on his trip. The cross-country trip is designed to create awareness for MS, but it is more than that to Robin and his family.
"It isn't just about MS," said Robin. "There are people everywhere facing hard times. This is about taking matters into your own hands and doing something."
Robin has been undergoing his diet and exercise regime for 4 months now and has dropped 27 pounds. He says he can feel his balance improving and strength returning to his legs and core. The results are encouraging him to keep doing more. His favorite exercise is his aqua therapy sessions where he spends an hour in the water stretching and performing strengthening exercises.
"It is a freedom thing," said Robin. "It is definitely my number one favorite exercise."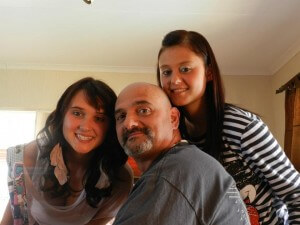 His absolute favorite thing though has been the support he has seen. He said that he has received countless emails from people telling him how his journey has inspired them, but those emails are inversely what inspires Robin to keep pushing. He has even had people volunteer as coaches to help him train.
His wife and friends think his story could make a good book or documentary. He said he is open to the idea, but wants to make sure he is ready for his trip before committing to anything. He wants to achieve his goal without distraction.
Robin regularly updates a Facebook page with his progress and what things he has been finding that have helped him along. Like his page here, and follow his progress up until his trip begins September 2015.
"There is hope out there," said Robin.