Wounded Warrior Receives a Camo Wheelchair Van Before Memorial Day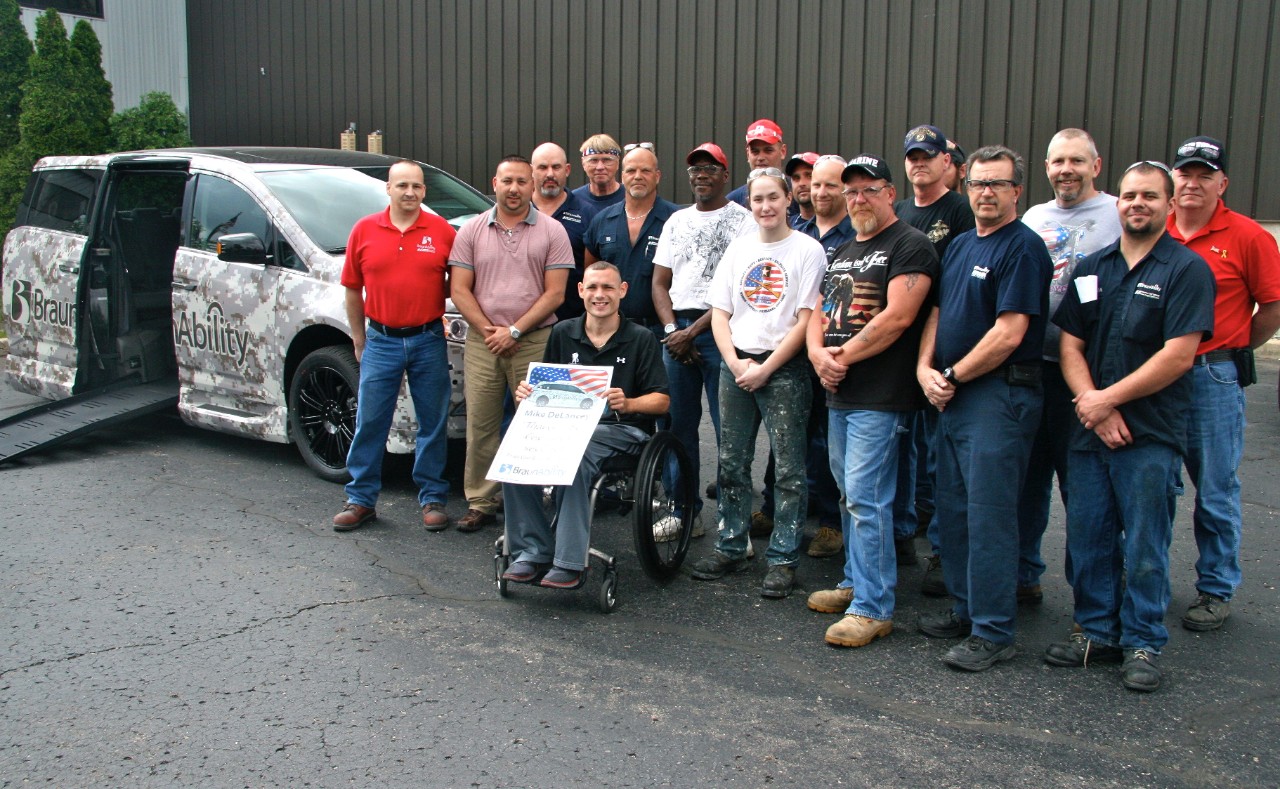 A hero is someone who has laid it all on the line for something greater than themselves, someone who serves a greater cause. The United States Marine Corps is a team of such brave heroes. BraunAbility had a special privilege to provide a special, one-of-a-kind Honda Entervan to one hero who was injured in the line of duty.
Lance Corporal Michael DeLancey, a veteran of both Afghanistan and Iraq, was the recipient of this special event. DeLancey has worked with the Wounded Warrior Project assisting his fellow war veterans. He received a special low-cost lease on the vehicle. The design is exclusive to the model he received.
We celebrate how the life you live embodies the definition of ability. A core value of our brand is Believe in Your Ability. Its who we are; it's in our name, after all, said Kevin McMahon, executive vice president of sales and marketing. We salute the work you do and will continue to do in the veteran community and beyond.
BraunAbility staff attended the presentation ceremony and had time to extend their thanks to BraunAbility staff veterans and for Wounded Warriors like DeLancey.
DeLancey enlisted in the military in 2004, and went on two deployments, once in Afghanistan and another in Iraq. It was during his tour in Iraq when DeLancey was hit by a sniper. He suffered a fracture of his fifth and sixth vertebrae, as well as damage to his lungs. The incident left him without movement from the waist down.
The next moments of consciousness he had were in the Walter Reed Army Medical Center two months later. He was soon transferred to the James A. Haley Veterans Hospital in Tampa, Fla. It was in Tampa where Delancey learned about the Wounded Warrior Project (WWP).
WWP gives veterans like DeLancey and many others the chance to connect and heal together through activities like fishing or baseball games, or just sessions where the Vets can talk to one another.
DeLancey lives in Pinellas Park, Florida, where he was born and raised, and now coaches a winning Pop Warner youth football team. The rest of his time is involved with WWP programs and activities with his dad and primary caregiver, Mike DeLancey Sr.
The father and son team plans to continue to travel and spread the word and support to other veterans across the country. The Braun staff extends their sincerest wishes as the pair goes about their quest.
This Memorial Day is the perfect time to thank the Wounded Warriors we all know and have made a sacrifice for the freedom we enjoy and cherish.
Update: since this blog was first published, DeLancey has established Wounded Warriors Abilities Ranch in his hometown of Pinnelas Park, Florida. WWAR helps wounded veterans and their families heal and move forward after physical and mental suffering from time in service.