BraunAbility CEO, Ralph Braun, Recognized for Veteran Support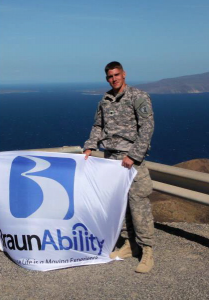 BraunAbility founder and CEO Ralph Braun has always shown a very deep appreciation for our nation's veterans, and this year was recognized for that support with the Employee Support of the Guard and Reserves Patriot Award. The honor is given to employers who show dedicated support and flexibility to employees serving in the military.

Ralph was nominated by a six-year employee, Sergeant Don Perkins, who appreciated the time he and many other employees had been granted in order to fulfill their military duties while employed at BraunAbility.
"Going onto and back from military orders have always been easy for me," said Sgt. Perkins regarding his employer. "I come back to work with no speed bumps to deal with, and its a smooth transition."
In appreciation of Ralph Braun's support, Perkins has taken a BraunAbility flag with him on each of his deployments. The flag hung in his room at Grissom Aeroplex, at Fort Dix and is with him now as he is stationed in Djibouti, Africa.
That gesture means a lot to a CEO who credits Vietnam veterans with helping to build the corporation he started over 40 years ago. The honor truly goes to the men and women on the front lines it is so important that we do what it takes to make sure those who are willing to serve on the front lines have the support of the rest of us back home.