Colonel, Wing Commander, and BraunAbility Customer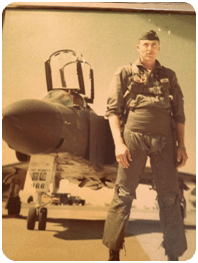 Two of the three words in the title have an obvious relationship, but the third is just as descriptive in the case of Ernie Coleman. Earnest "Ernie" Coleman is a long-time military man and BraunAbility customer with quite a few stories under his belt. He was recently featured in a blog post by his local dealership, ADA Pasadena. Once we read his story, we had to talk to him ourselves.
Ernie grew up watching footage of WWII fighter pilots flying into battle before the theater movie would start. Sometimes, he said he would go to the theater simply to watch the war footage of pilots flying instead of the movie itself! He made up his mind -- he would become one of those pilots.
To say he accomplished that goal would be an understatement. In his 22 years of service of the United States Air Force, Ernie became Wing Commander of F-111 fighters at an air base, as well as reaching the rank of Colonel in 15 years. He flew close to 200 combat missions during the Vietnam War, some in the F-100 Super Sabre and the remainder in the F-4 Phantom II.
A short while before he made the rank of Brigadier General, the unthinkable happened. While on a training flight, he and his co-pilot encountered several mechanical issues that resulted in the duo ejecting from the plane. The harsh landing injured Ernie's spine, leaving him paralyzed from the chest down.
He lost his promotion to Brigadier General, but his story is far from over.
"I don't worry about the little things I can't do," said Ernie. "But I look at something I really want to do and figure out a way to make it happen."
In the 32 years that Ernie has been in a chair, his legacy has only grown. Both of his sons have had careers in the air force as well, but something that's pretty remarkable about Ernie is his mechanical prowess.
Ernie has owned two BraunAbility vans, five vans outfitted with BraunAbility lifts, and over 10 of Ralph Braun's invention, the motorized Tri-Wheelers. BraunAbility hasn't made Tri-Wheelers in quite some time, so Ernie and his sons work and maintain them themselves. The family has a lift in the garage that allows Ernie to get to eye level with his Tri-Wheelers and do the work.
"I had a Permobil powerchair for a while, and people started treating me differently, so I went back to the Tri-Wheeler," he said.
The same principle goes with his minivans as well. He said he has shopped for other brands and has test-driven many models, but always comes back to BraunAbility.
"I wouldn't have anything other than a Braun," he said.
Thank you, Ernie, for your dedication and service to our country in your military career, and thank you for staying with us here at BraunAbility. It's an honor to make our products for people like you.