Sensory Bin Ideas for Kids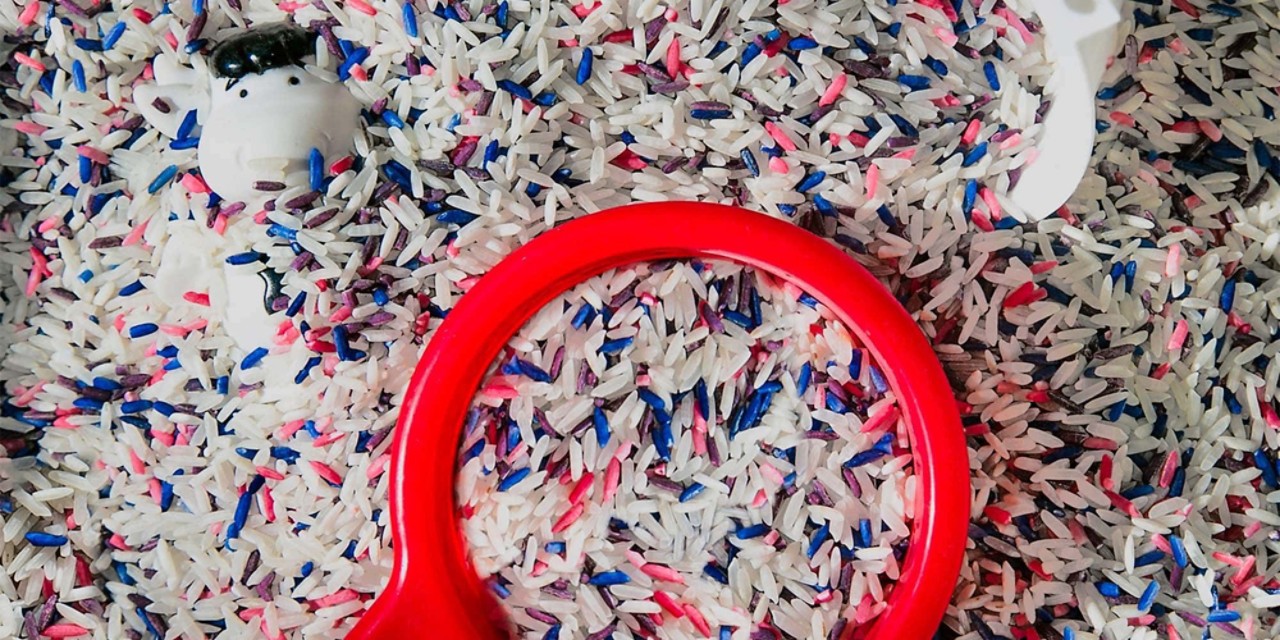 If you're overwhelmed by the idea of creating a sensory bin at home, you've come to the right place. We've rounded up some fun and educational sensory bin ideas for kids of all ages and ability levels.
Whether you're an educator, a parent, or a caregiver, we have some super easy sensory bin ideas for kids, toddlers, and babies. Kids of all ages will benefit from this interactive experience. Let's start exploring.
What is a Sensory Bin?
A sensory bin is designed to stimulate a child's senses. Sensory bins are filled with hands-on materials your child can play with, pick up, hear, smell, feel, and sometimes even taste. A sensory bin allows babies, toddlers, preschoolers, and beyond to experience open-ended play.
The idea behind the open-ended play is that there are no set expectations. Unlike art time or writing practice, there isn't a goal you're trying to achieve. Kids are allowed to just play. They can use their senses, their imagination, and their bodies to explore and learn.
One of the best things about a sensory bin is that you can make one using items you already have at home. There's no need to have a degree in early childhood education or have an expensive sensory table.
Why is Sensory Play Important?
Sensory play is one of the most critical parts of child development. Playing in a sensory bin encourages problem-solving, exploration, curiosity, and more. It may seem like kids are just making a mess or playing in a box but in fact, they are learning critical developmental skills.
Let's say you have a tube with small balls in your sensory bin. The child will learn cause and effect by what happens when they place a ball down the tube. They may hear a sound, recognize the ball slides through to the bottom, or experiment with trying to keep the ball from falling out of the tube.
Babies and kids of all ages benefit from sensory play. A baby, for example, is learning to grasp, pick up, and move an object closer to them. An older preschooler may now be using tools such as scoopers or tongs. This can help both children with using utensils and holding pencils later in life. This is so helpful for kids of all ability levels.
Sensory Bin Ideas
Sensory bins don't take a lot of money to create. You can often use items found around your house. A dollar store is also a great place to get a lot of fun sensory bin material.
To help give you some age-appropriate sensory bin ideas, we've rounded up a few easy-to-make bins by age group. Remember that these can be adapted or changed depending on your child's own needs and ability level.
Sensory Bins for Babies
For babies, a sensory bin doesn't necessarily have to fit in a bin. Your little one may not be at the point where they can sit up and reach into a bin. This is where sensory bags come in handy for infants.
When your baby is trying a little tummy time, you can slide a Ziploc bag near them or under them depending on their age and ability. You can fill the bag with your sensory items, so babies won't be able to pick them up or put anything in their mouths.
Some easy baby sensory ideas include shaving cream with food dye, water with beans, and hair gel. Each of these items helps make your bag squish while colors and textures swirl around them. As your baby ages, you can also put these bags on their highchair to give them something squishy and fun to explore safely.
When your baby is able to sit up and starts to learn to grab, you can put large toys or soft items in the bin that they can pick up. They can practice the pincer grasp, seeing what makes a sound, and more. Teethers, small stuffed animals, medium-sized plastic or wood toys are great for this.
Sensory Bins for Toddlers
For a toddler, the sensory bins can be filled with more items your little one can pick up and grab. You can also start to theme your sensory bins around holidays or different lessons. They can play alone or side by side with a friend or sibling.
Having toddlers play near each other in a sensory bin helps prepare them for real-life situations. They can practice sharing a space and sharing tools, for example.
Sensory bins for toddlers can include flour, sand, dirt, fabric, faux flowers, pom-poms, glitter, water, ice, and a variety of toys. You can also give them tools such as cups, shovels, tubes, paper towel rolls, cupcake wrappers, and bottles. Kids can fill, scoop, dig, and pour as much as they'd like.
Cut out shapes, use pipe cleaners, measuring cups, and pantry items from the kitchen as well. Dried beans, cereal, rice, and water or ice work great. One fun way to introduce temperature is to freeze small toys in ice cubes and let them explore breaking the ice or watching it melt.
Sensory Bins for Pre-Schoolers
The options for pre-school sensory bins are almost endless. As kids age, you may feel more comfortable adding messier items to your sensory bin. Things like shaving cream or hair gel can be added right into the bin for fun texture play.
You can also theme your bins around lessons on counting, colors, or shapes. Kids can even use tools such as kid-friendly scissors to create shapes from paper or fabric in their sensory bin. They can continue to work with scoopers, shovels, cups, tubes, and more.
Noodles, dry pasta, sand, water, ice, dirt, and items found in nature make great sensory bin fillers. You can use leaves, dirt, flowers, and more to help them learn more about seasons and items found outdoors.
Sensory Bin Ideas for Kids
Sensory bins are great for children of all ages and ability levels. These sensory bin ideas for kids teach them through play and exploration about smell, touch, sound, and more. You can create fun and educational sensory bins using items you already have at home.
If you're looking for more great resources for your child, fill out the contact form here. We have a wide variety of product lines and mobility solutions to help them grow and flourish.
Related Articles