9 Ways to Create a Handicap Accessible Home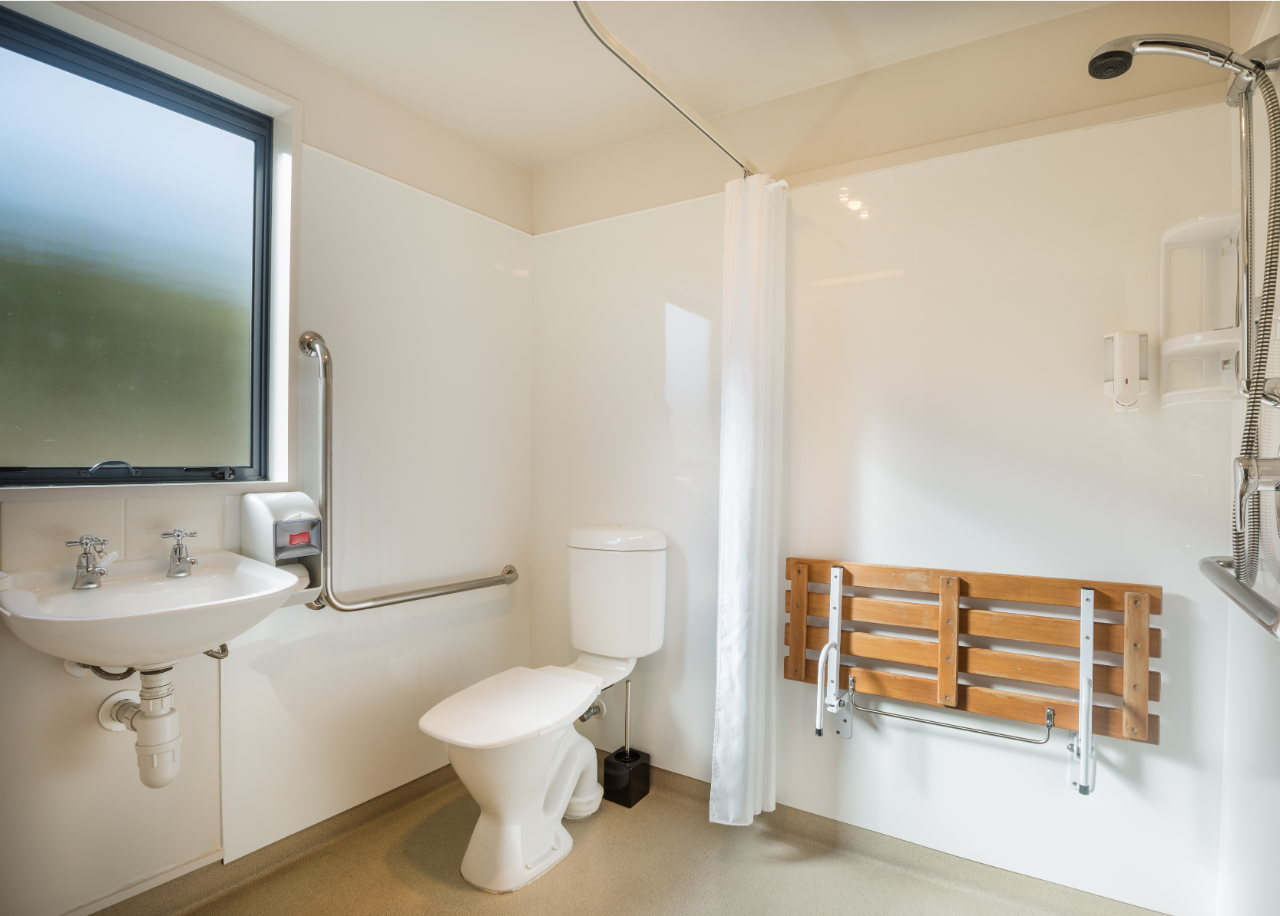 Handicap Accessible Homes & Wheelchair Accessible Homes
Handicap accessible house plans or universal design is a principle that makes architecture inclusive of people with varying needs, such as architecturally creating or furnishing in a way that creates more space to maneuver mobility aids or lower placement of light switches for people who use a wheelchair. Handicap accessible homes, or homes built with universal design rules help traditional homes as we think of them to become handicap accessible homes.
Creating a wheelchair accessible home is important for overall quality of life for yourself or those in your care who need additional accessible accomodations. A handicap accessible home allows someone to live in their home independently and is the best way to ensure overall safety and comfort.
Rosemarie Rossetti wakes up every day in the top-rated universal design home in North America. It's her full-time residence, but it is also a workspace -- it goes by the name of the Universal Design Living Laboratory. 
After the debilitating accident that caused her hospitalization and paralysis years ago, Rosemarie had to quickly learn about the fundamental principles of universal design.
She describes her previous home as a space that was impossible to navigate from a wheelchair.
"Every step of the way, there was a barrier. From the moment of driving into the garage and trying to figure out how I was going to get into the house [...] Every step, every position along the way was a total nightmare," Rosemarie remembers. There were no ramps into the home. Doorways and hallways were too narrow to traverse from a wheelchair.
Then came the decision of what should come next. Should she and her husband renovate their home? Would they have the space on their property to add on much-needed space? Could they work with a builder and modify a model home? Or could they realistically design a home from scratch?
It was ambitious, but the pair decided to create the Universal Design Living Laboratory, their new home. (For a guided tour, check out this accessible home walkthrough with Mark.)
Over the course of its existence, the handicap accessible home has seen thousands of visitors and the couple is constantly busy hosting new groups, speaking at events or learning and teaching about new handicap accessible home products and design principles.
"It's been much bigger than I could have imagined," Rosemarie admits. "The opportunity worldwide never occurred to me. I figured it would be more of state-wide or regional interest, not international like it's turned out to be."
Through working as a contractor and specialist in the area of accessible home design, Rosemarie has worked with scores of people looking to renovate or build their own wheelchair accessible homes.
"We have to look first at the entry of the home, and then we look at the kitchen and bath. That's the two rooms where we spend most of our time and where the circulation and layout are most critical for wheelchair access and safety," she said.
Top 9 Ideas to Create a Safe Handicap Accessible Home
Install a Wheelchair Accessible Entrance
First and foremost when assessing handicap house plans or renovating a home to be accessible: you need to fix the first barrier you encounter -- your home's entrance! There should be a no-step entry with a low threshold at less than a half-inch, "So you don't have to do a wheelie to get into the house," Rosemarie says. In her home, she chose a 1/20 slope to the entrance of the front door, which is quite gradual and reduces the strain you may experience in your shoulders with steeper ramps in manual wheelchairs. The handicap-accessible door opening, too, should be analyzed. A 36"-wide handicap door size opening should accommodate most wheelchairs. Unsure if you should construct or buy a wheelchair ramp for your entryway? Check out this blog to learn about various wheelchair ramp styles.
Ensure a Minimum 5-Foot Turning Radius
In most areas, you'll want a minimum of a 5-foot turn radius. In some cases, Rosemarie said, you may need a 6-foot radius for larger wheelchairs, but ultimately you'll want to be able to make a 360-degree turn. BraunAbility friends and YouTubers Squirmy and Grubs (Hannah and Shane) illustrate how a tight hallway can make navigating an in-accessible home particularly challenging. 
Provide Knee Space Under Sinks and Countertops
In order to use her sinks and countertops, Rosemarie had to think about the space her legs and chair would take up when she rolled up to it. Without space underneath, even a lowered countertop is not functional. Keep this in mind in the kitchen, bathroom, laundry, and office areas of your home.
Create Low Storage Spaces

Fifty percent of your storage should be accessible, so that means drawers and cabinets, says Rosemarie. "I purposely store things in the upper cabinets that I don't need unless someone else is there. For example, I don't drink coffee, so I never need the coffee maker. But if I have a visitor, I'll have them reach the coffee maker. In this way, no space is left 'wasted'." This is especially important when considering renovating your closet to be accessible. Move down your hanging clothes and add many lower drawers and shelving for easy access to all items. Keep special occasion items stored in the top like special hats, formal wear, or winter wear during warm months. 
Convert to a Curbless Shower with Channel Drain
One of Rosemarie's biggest items on the list is also one of the most important. A no lip, curbless shower that transforms the shower into a handicap shower stall and allows someone in a wheelchair to roll right in. A channel drain is extremely important for the safety of the chair user. "Channel drains get water out quicker and makes showering safer," says Rosemarie. Plus, she said, a wheelchair accessible shower should be large enough to allow for a caretaker or professional aid if you need assistance. See more ways to create a handicap-accessible bathroom.
Install a Shower Chair or Shower Bench Option
Similarly, a shower chair or shower bench is obviously needed for handicap showers. Rosemarie prefers the foldable option mounted on the wall so there are fewer complications with setting up and it leaves ample space for other family members to use who may not need the chair or bench option. This is also a great way to create a handicap-accessible apartment if you aren't able to make lasting physical changes to your home. 
Install Safety Grab Bars
Grab bars with wall reinforcement should be installed in key locations like around a handicap toilet or shower for adequate handicap bathroom design. Before installation, safety grab bars should be tested in a handicap accessible bathroom in order to ensure they are installed at the proper height and secured to wall studs to support a user's weight. An improperly installed grab bar is just as dangerous as no grab bar at all.
Lower Your Most-Needed Countertop Heights
Especially important for both the kitchen and the bathroom areas are convenient countertop heights. Rosemarie's husband is 6'4" tall and uses a 40-inch high countertop for preparing food, but for Rosemarie, she prefers her 30-inch countertop for meal prep, while a 34-inch cooktop and sink works well for both of them. Also think about handicap accessible design in a laundry room. Counterspace there is often higher for folding and hampers may be too high to use easily. Lower at least a portion so everyone in the family can help with much-needed chores. 
Invest in a Side-By-Side Refrigerator and Freezer
"I like that configuration better," says Rosemarie of her refrigerator and freezer. "If you are going to replace a refrigerator, this is the one I would own. I can reach anything in that refrigerator and freezer!" For some amputees, a side-by-side may still render some shelves out of reach, but at least half of both a refrigerator and freezer are accessible.
We asked Rosemarie about budgets. Often people who need to modify a home to a wheelchair accessible space don't have a lot of disposable income. She told us about working with Habitat for Humanity International.
"That is the budget conscious, 1200-sq-foot, very affordable home," said Rosemarie. "When analyzing whether the volunteers who build these handicap accessible homes could make a no-step entryway, install multiple height countertops, or expand doorways, the answer became clear: it was all possible, and still affordable to even low-income families. [...] The design is what is important."
For a free chapter of Rosemarie's latest learning program for the accessible home design, the Universal Design Toolkit, visit her website at www.udll.com.
Other Accessible Living Articles: