5 Steps to an ADA Compliant Bathroom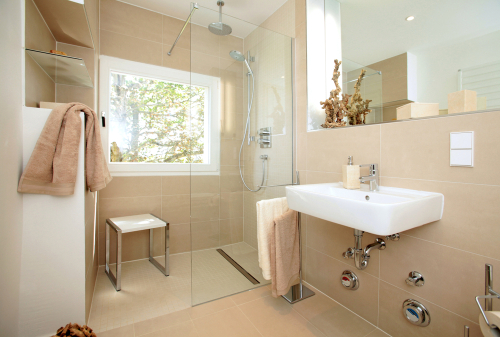 Your bathroom should not be a dangerous place.
Accidents happen at an alarming rate in the home and especially in the bathroom. Rugs, water, and unsafe conditions lead to slips and falls. Falls can lead to serious injuries and complications.
Creating an ADA compliant bathroom at home is an easy way to make sure that those with limited mobility can access everything safely. Let's look at five easy ways to make your bathroom more user friendly and ADA compliant.
1. Decide Where to Put Grab Bars
Grab bars are an easy way to make your home more ADA compliant and safer for everyone. Take a look through your bathroom and decide where grab bars would be best used in the space.
Near the toilet, bathtub, or shower are the best places to add grab bars for those who need help. Grab bars are easy to add to an existing room.
2. Keep in Mind The Height
When designing an ADA compliant bathroom, it's important to remember that the height of some things will need to change. People who use wheelchairs for mobility are lower than those standing.
Handles on cabinets should be lowered. Sinks and storage will also need to be reachable from a different level.
3. Hand Showers For Easy Bathing
Adding moveable parts to your shower head allows those who need to sit in the shower easier access to the water. Hand shower heads take the worry out of showering. These types of showerheads make it easier for someone with muscle fatigue or paralysis to get clean on their own.  
4. Toilets With Space
According to ADA bathroom guidelines, toilets need to be between 17 and 19 inches high to meet their standards. Toilets need enough space underneath them to allow for easier movement through the bathroom.
Toilets that are ADA accessible are often marketed as comfortable height. You can also look into wall-mounted toilets. These have plumbing parts hidden in the wall behind the toilet.
5. Faucets, Knobs, and More
Faucets and knobs should be easy to turn with one hand and with little pressure. This includes the toilet's flushing device. Remember to keep in mind the height of these devices as well so that they are within reach of people who use a wheelchair.
Prevent falls by adding non-slip rugs or mats to the floor and the shower. Falls and slips are common in a space where there is a lot of water. Simple changes can create a safer bathroom experience for everyone!
Create an ADA Compliant Bathroom With Ease
These five steps will help you create an ADA compliant bathroom that is safer for everyone. These changes most importantly, create a more accessible space in your bathroom for people with disabilities. Everyone can benefit from keeping in mind safety features that are proven to work.
Staying accessible and safe doesn't start and end at home. Check out all our mobility products for travel and more to make everything easier to access!