Braun Founder and CEO Passes Away at Age 72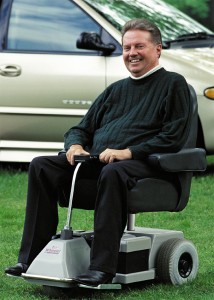 Ralph William Braun, our founder, and CEO passed away Friday, February 8th     in Winamac, Indiana. He was 72 years old.
Ralph leaves behind a significant legacy in the mobility industry an industry that he helped create based on his personal need for mobility products.

In 1947, Ralph was diagnosed with muscular dystrophy at just six years of age. Ralph credits his parents with instilling in him the will to overcome the challenges his disability presented him as well as any other obstacles life put in his path. When he could no longer rely on his own two legs and had outgrown piggyback rides from his dad, he began using a wheelchair. While he didn't welcome the mobility aid, the 13-year-old never let it slow him down. Ralph wanted an education, a career, and a family, just like anyone else; he just had to work a little harder at it.

The first mobility product he engineered was a motorized scooter, which he called the Tri-Wheeler. The scooter allowed him to conserve energy and keep his job as a Quality Control Inspector at a nearby factory. As his mobility increased, so did the attention of the disabled community. What started as a part-time business filling orders for Tri-Wheelers from his parent's garage evolved into Save-A-Step Manufacturing.
When the factory where Ralph worked moved a few miles from his home, he outfitted an old postal Jeep with hand controls and a hydraulic lift so he could have reliable transportation to and from work no matter the weather. Just a few years later when Dodge introduced the first full-sized, front-engine van, he devised a way to install a wheelchair lift that would revolutionize the mobility industry. For the first time, individuals with disabilities had a way to travel on the road from their wheelchairs.
The Braun Corporation was incorporated in 1972, and for much of the remainder of that decade and the next, Braun's product line was built on the wheelchair lift. Not only did this product revolutionize consumer mobility, but it forever changed public transportation as well. Finally, buses and vans could be outfitted with wheelchair lifts to allow universal public transportation from city and state governments. Most importantly, children across the country were offered accessible transportation to and from school a benefit that didn't seem possible when Ralph was a young man encountering multiple roadblocks to his own public education. The commercial lift industry, as well as the paratransit business, continues to thrive in the domestic and international markets.
By the time the lowered floor minivan was introduced in the late 1980s, Americans were experiencing a level of mobility that had never before existed. Other manufacturers offered mobility products, but what set The Braun Corporation apart was Ralph's focus on providing mobility solutions to meet the individual needs of each customer. He created a network of dealers across the country to evaluate an individual's needs and circumstances to find the best mobility option for him or her. Today the company offers wheelchair accessible conversions on the Dodge/Chrysler, Toyota, and Honda minivans, as well as multiple lift platforms and additional mobility products to fit the needs of customers with every need and level of disability.
The Braun Corporation marked its 40th anniversary in 2012. Throughout the company's existence, Ralph kept his headquarters based in his hometown of Winamac, Indiana (population 2500). Nearly 850 individuals are employed by the company.
Braun has been recognized for his work in the industry, including the Champion of Change honor by the White House in 2012 for his dedication to improving the lives of individuals with physical disabilities. He was inducted into the NMEDA Hall of Fame in 2012 and was recognized as Employer of the Year by the Commission for the Handicapped and the Indiana State Board of Health. Just a week before his passing, Ralph was also honored with the Support of the Guard and Reserves Patriot Award for his support of his employees who serve in the military.
Ralph has left a permanent legacy in the mobility community and will be remembered as a true pioneer of accessibility. He wrote his autobiography, Rise Above, to tell the story of the challenges he faced as a young man not only from his health but from the limitations society placed on individuals with disabilities as well. In the book, he announced the formation of The Ralph Braun Foundation, which would help those with limited income afford the mobility equipment they need.
Ralph Braun is regarded as a true pioneer of an industry that has brought freedom to hundreds of thousands of individuals across the world. The Braun legacy of quality and dedication will continue in the name of its pioneering father.