Basic Tips for New Wheelchair Lift Owners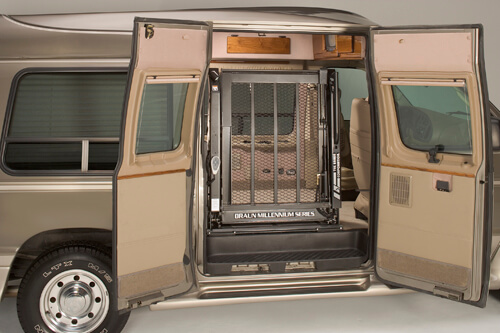 Wheelchair Lift Basics
We all enjoy new things and purchasing a new accessible full-size van with a wheelchair lift is no exception. We like to test, poke, prod, and otherwise run any new piece of equipment through its paces. Far from being negative, this is a very positive thing to do and should be encouraged, as long as it is done responsibly. The more you know about your lift, the better of an operator you will be. Here are some things to consider.
Know the very basics before you leave your dealer's lot.
Part of a dealer's responsibility to you when they deliver your new van and lift is to explain basic electrical and back up operation. Make sure you spend as much time as you need to feel comfortable. All our new lift systems have many built-in safety features that you may not be used to if you've owned an older BraunAbility wheelchair lift in the past. The Federal Government has tightened its regulations over the past few years and required BraunAbility and your dealer to add those new safety features to your conversion. Because of this, your lift may respond differently than you are used to.
After you have mastered the basics by working with your BraunAbility Dealer, operate your lift on your own when you get home. Become familiar with the new safety features. Realize that there are certain devices on your lift that will prevent operation if they sense an unsafe situation, and know what they are. Familiarize yourself with all back-up systems in case you ever have a dead battery or other problem with the van.
As with anything, taking care when operating your lift is also a must. We stress the importance of testing out your lift, and this is true, but be realistic. Test, but don't test the limits. Be methodical; don't put yourself and your lift in situations it's not designed to be in. Reliability branches out to many people and you are one of them. BraunAbility has a responsibility to build a safe and reliable product, our dealers have a responsibility to maintain that product with your help, and you have a responsibility to become educated on the proper operation and limits of your lift. When all these things meld together you will have a very trustworthy companion in your lift for years to come.
If you are a new wheelchair lift owner or are just beginning your research, please let us know what your concerns are by contacting us.
Other Service and Maintenance Articles: