In Ralph's Words: Our Greatest Salespeople are Our Customers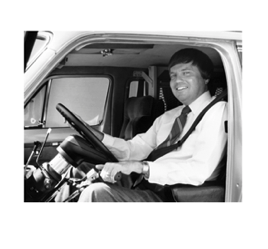 History of BraunAbility - Looking Back, Looking Forward
I get a hard time from people close to me for starting off stories with "back in the day". I'm not one to live life always looking in the rearview mirror and reminiscing about the past. Still, when I think back on the people that helped build our business from a part-time weekend hobby to our position as the leader of the mobility industry today, I can't help but get a little caught up in our rich history.
Let me take you back to 1979, a year marked by a fire that could have devastated Braun. The fire helped me make the decision to stop producing Tri-Wheelers and to focus our efforts on lifts and vans. It wasn't an easy decision - after all, this was my first invention, and I'd been making them since 1962. To this day I still have customers from the 60s (myself included) who bring their Tri-Wheelers to us for maintenance checks.
That sort of loyalty to our products is not uncommon - beginning with customers who were with us from our very first lifts and vans. Back then traveling as a wheelchair user was a frustrating dance of awkward transfers, chair disassembling and the guilt of feeling like a burden on others. Oftentimes a wheelchair user just opted to stay at home rather than deal with it all.
So, when we came out with our first lifts and accessible vans, they were extremely excited to have a mode of transportation that saved time, planning, and, in many cases, their family members' backs.
Those early customers, along with their family members, were some of the best salespeople our company has ever had. They were more than enthusiastic about this newfound independence, and it was contagious. They took every opportunity they could to demonstrate a ramp or lift in public - whether at a restaurant, shopping mall, wherever. It wasn't uncommon for small crowds to gather around our vehicles whenever customers took them out in public.

Those early customers offered valuable feedback for us. Through them, we saw the value of having experts across the country who could answer the questions and concerns of potential customers. Today I consider them BraunAbility's first dealer network. In fact, many of them actually became some of our most successful dealerships, and many are still selling BraunAbility wheelchair lifts and vans today.
Our company was a tight-knit family "back in the day", and it still is. The industry has matured considerably since the days of lift demonstrations in the grocery store parking lot. No matter how much we've changed and grown, we're still a family. The good ol' days may be behind us, but the great days are still to come!