BraunAbility, Huntington Bank, Toyota Mobility and Superior Van and Mobility Give the Gift of Independence to Indiana Family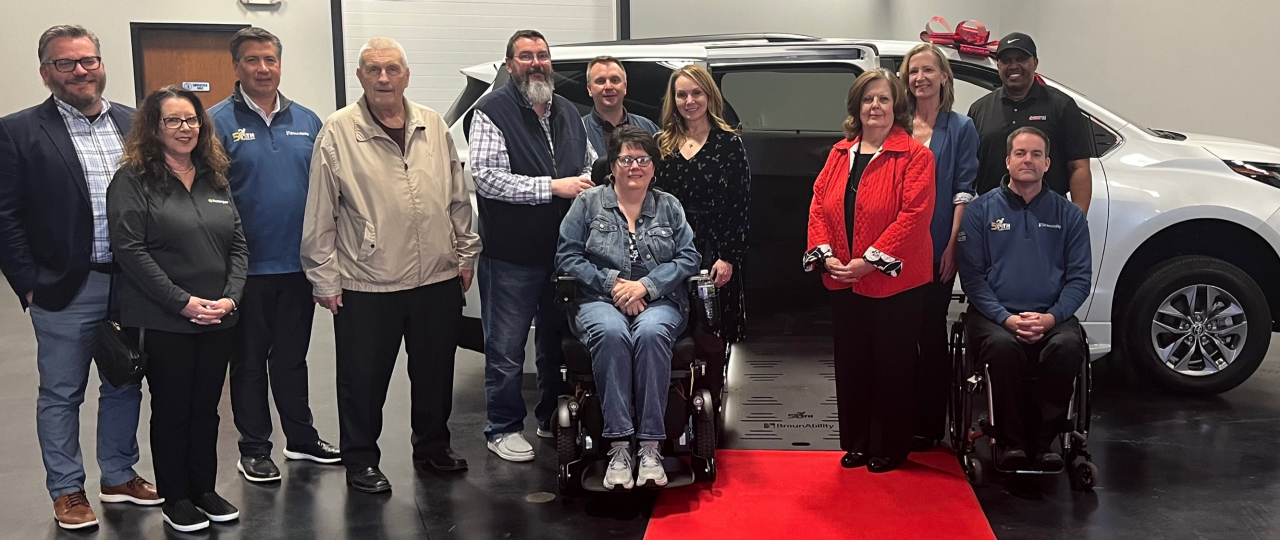 BraunAbility recognized its 50th anniversary with a series of donations supported by industry partners that highlights the impact of mobility for those living with physical disabilities and their caregivers.

FISHERS – March 10, 2023 – Tracie and Darrell Ridgeway of Winchester, IN have spent over three decades of Valentine's Days together, but this year's is one they'll always remember.
That's because on Feb. 14th, the Ridgeways found out they would be receiving the keys to a brand-new wheelchair van donated to the couple through a partnership with Superior Van and Mobility, Toyota Mobility, Huntington Bank and Indiana-based mobility leader BraunAbility, who celebrated its 50th anniversary in 2022.
Early in its anniversary year, Indiana-based BraunAbility announced a series of product donations to honor the company's 50 years of leadership in automotive mobility. Industry partners Toyota Mobility, Huntington Bank and Superior Van and Mobility all agreed to contribute to the donation of a brand-new wheelchair van to change the life of a family in BraunAbility's home state: the Ridgeways.
Since 2020, a gradual loss of muscle strength resulting in diminished mobility led Tracie Ridgeway to eventually utilize services provided by The ALS Association. The couple, who was known for taking long road trips on their Harley Davidson motorcycle, had now found themselves without the ability to travel together at all. That will all change with a wheelchair-accessible vehicle.
The vehicle is a Toyota Sienna Hybrid made accessible by BraunAbility, but this wheelchair van is especially unique. It's a 50th anniversary edition BraunAbility Toyota Rampvan® with a side-entry foldout ramp and custom lower body striping. It will allow Darrell and Tracie to reclaim their independence and make it easier to get to appointments and clinic visits, as well as leisure travel with their 4 children, including their teenage son who still lives at home.
"Now Darrel and I will be able to travel places together and make lasting memories. We can take our children, grandchildren, and parents with us on outings and reconnect," said Tracie. "Most importantly though, it will allow us to do things and enjoy each other while we still can and while I'm still mobile."
Since 2020, Tracie and Darrell have given back to the ALS Community, volunteering in outreach and fundraising efforts.
The ALS Association's goal is to empower people in the Indiana communities they serve, to engage with the world in the way they want; reduce the physical, emotional, and financial burdens they face; and connect them with high quality services that benefit them where they are on their journey. In 2022 The ALS Association served 394 people living with ALS and their families in Indiana. The organization was able to provide 69 families with 78 pieces of essential equipment and held 41 support groups and meetings to provide emotional care and resources to our ALS community.