First-Ever Hybrid Conversion | Toyota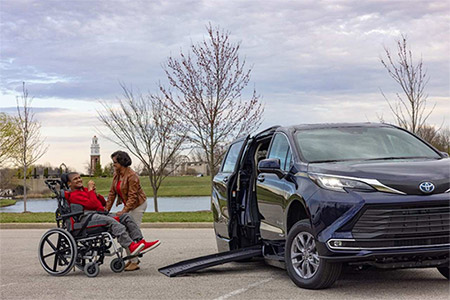 On May 18th, 2021 it was announced that in celebration of National Mobility Awareness Month, BraunAbility would be unveiling their all-new 2021 Toyota Sienna Hybrid wheelchair-accessible vehicle. This was the first hybrid conversion vehicle available at this large scale for the disability community.  
Adding to the increased availability, BraunAbility has made and continues to make unbelievable strides in terms of fuel efficiency. The main goal when they unveiled the new 2021 Toyota Sienna conversion was to achieve a more eco-conscious and fuel-efficient wheelchair-accessible vehicle. This had been long overdue, as 78 percent of registered voters supported setting stronger fuel efficiency standards for cars, trucks, and SUVs, according to a 2020 Yale Program on Climate Change Communication report. Due to the increased attention around this issue, BraunAbility was focused to help combat the issue by increasing research Braunability was happy to announce at the time of unveiling their new 2021 Toyota Sienna that it was the industry's first wheelchair-accessible vehicle to achieve 36 miles-per-gallon combined fuel efficiency.
Taking engineers more than 55,000 hours to design, BraunAbility's newest conversion prioritized and maximized space to allow for the best maneuverability for wheelchair users. The intricate conversion design retained every inch of navigable cabin space as well as an extra-wide doorway and wide driver position to ensure easy maneuvering for even the largest of power wheelchairs. The extra-wide doorway was given a three-inch extension on the passenger slide door opening and the wide driver's position provides twenty-eight inches of clearance for that position. These two additions ensured that even the widest of wheelchairs would still be accommodated.   
Lastly, the new 2021 Toyota Sienna was given updates in technology and quiet ride. It still possesses all original device-charging functionality (USB, HDMI, etc.) that the car possessed prior to undergoing the conversion. As for the quiet ride portion, an improved door seal was added. The goal is to achieve a smoother driving experience for the consumer, successfully limiting outside noise for inside passengers.   
Staci Kroon, CEO of BraunAbility, was quoted stating "We're thrilled to be able to add the Toyota Sienna Hybrid to our fleet as a continuation of our dedication in providing state-of-the-art, industry-leading vehicles to our customers. At last, members of the mobility disability community have a choice in taking a more eco-conscious route when selecting a ride," at the time of the unveiling.   
BraunAbility has continued to be committed to providing quality in all forms to fit its customers' unique needs. BraunAbility knows one size does not fit all, and because of programs like The Driving Force, providing continuous feedback regarding the issues with mobility for the disability community, BraunAbility will continue to be able to create new products like the 2021 Toyota Sienna Hybrid wheelchair-accessible vehicle.